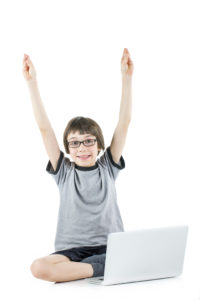 –this post was sponsored by itslearning, but the opinions are my own.
When I started teaching, homework always involved paper–a worksheet, a poster, a written essay, or something else like that. The problems associated with that approach were endless, including that students couldn't find the assignment, lost their notes, wrote the assignment down wrong, left their notebook where they weren't so couldn't do it, the dog ate it. Even if they did it on a computer, I remember numerous before-school visits from students to use my printer because theirs was broken, out of ink–add your own dilemma to this list. Most of these reasons were true and I did feel for the students, but the end result was always the same: The student didn't get the benefit of what s/he would have learned from the homework.
It didn't stop there. Because students couldn't access school-based materials at home (for reasons like no internet or no digital device), I had to assign homework that could be completed without school resources, by themselves. Group projects were nice, but getting everyone in the same library or house meant parents driving, schedules re-arranged, and time that could have been spent on learning was spent on making arrangements.
It seemed my biggest challenge–as well as my students–was managing workflow.
Thanks to Learning Management Systems, that's changed.
What's an LMS
An LMS (Learning Management System) is a software application for enhancing student performance by improving teaching and learning processes. It is sometimes known as a Course Management System, Virtual Learning System, and other names, but always infers a digitally-based system that provides an education portal for classwork and homework. The best emphasis the human connection, making it the heart of the education process.Features may include:
Features may include:
attendance
calendar of events and due dates
collaboration among students on projects and classwork
differentiation for unique student needs, meaning teachers can assign work based on student need–to the entire class, a small group, or an individual
digital communication (such as email, messaging, discussion boards, and/or forums) for real-time feedback on homework
gradebook
homework download, upload, and commenting
integrated partner resources such as Google Apps and Khan Academy
involvement of all stakeholders in student learning including other teachers (outside of the one class) and parents
quizzes and polls
resource library of teacher-generated materials, but also open-source educational content
statistical evaluation of student progress
student tools such as their profile page and tracking of their work
teacher ability to maintain a class roster, track student progress and submittals, evaluate class learning, and more
whiteboard
Be aware: There are over 500 LMSs, varying from free Open Source to fee-based proprietary. There is great variety on what they offer so do your research before selecting one.
How to decide which LMS works best for you
Here are five factors to consider as you establish your class or school LMS:
cost: What's your budget? Must you pay for bundled features you don't need?
integrates with your existing system: Will it work with your favorite gradebook or math program? Find out. Often developers have ways to adapt to the most popular partner sites.
intuitiveness: How easy is the LMS to use? If it isn't intuitive, do you have the personnel, funding, and time to train students and faculty to use the LMS well enough to achieve the goals you wish to get?
privacy: How secure is the site? What is the provider's record in this area?
reliability: Is the LMS always up? There's nothing worse than assigning homework that students can't access because the LMS is down. Ask this question, and then verify the answer.
training: How much training is required for IT folks to keep the LMS up and running? How much ongoing maintenance and support is required?
3 Reasons you want an LMS
The most popular reason for using an LMS is to provide a blend of technology and traditional resources in class lessons. Without a central collection point for links, online websites, images, PDF, and anything else digital, students have too many separate locations to visit when completing each lesson. Providing one-stop-shopping for all lesson materials–an LMS–just makes sense. Students access them from the security of a school portal and then submit homework the same way. No need for anything fancy, complicated, or expensive.
Second: Paper-free classrooms are more and more popular. Without a centralized, reliable LMS to provide ways to upload and organize all that material that used to be paper, that goal is daunting. Many LMSs provide options for uploading worksheets and images, annotating online materials, grading and commenting within the site. When it's time to submit homework, students avoid all of the issues that normally defeat paper homework and simply complete the work online (or upload a completed project) and then press Submit.
Third: What's becoming popular is using online LMSs to replace days lost through snow days (or substitutes). Teachers upload class materials to the LMS, provide an introductory video to tell students what is expected of them, and then students spend their day completing the work. When they finish, they submit it through the same portal. The teacher's dashboard tells them the homework has arrived and the student is done for the day. This is popular in colleges, but is moving to the lower school classrooms to address the varied needs of all learners.
You've made your selection; now what?
After making your selection, take time to acquaint yourself, colleagues, and students with this program. Too many times, during teacher training classes I teach and coaching sessions I moderate, educators complain, "We have an LMS, but I don't use it." Why? See if these reasons sound familiar: I don't understand it. It seems more work than it's worth. I have to train students and I don't have time for that. Everyone in my school uses a different LMS so students are confused.
Roll out a new LMS by training teachers. Then, retrain, answer questions, train some more, model its use, and throw in more training. Get teachers comfortable. No matter how intuitive, teachers will stick with what they know until the LMS proves it will save time and improve teaching.
A typical homework assignment
What does a typical homework assignment look like in an LMS school? Take a peak:
Students access their homework by clicking on it in their calendar tool or personal dashboard.
Students access all required homework resources within the LMS (no other sites or links required). The teacher uploaded everything necessary from videos to documents, PDFs, links, images, and files and pushed it out to students. Sometimes, to everyone; sometimes, differentiated for student needs.
Students collaborate with classmates on certain assignments via a Discussion Board or a chat function.
Students ask clarifying questions as necessary via a built-in email or chat function.
Students complete the homework. This might be within the LMS or by using dedicated tools (like Khan Academy) that automatically import the data to the LMS.
Students submit their homework to the teacher from the LMS and receive comments, grades, or feedback in their student dashboard.
Does this sound futuristic? It's not. Using LMSs like itslearning, it's happening all over the world as teachers take advantage of the LMS learning environment. Before you select one, check it out thoroughly so you pick the one best suited to your needs.
---
Jacqui Murray has been teaching K-8 technology for 15 years. She is the editor/author of over a hundred tech ed resources including a K-8 technology curriculum, K-8 keyboard curriculum, K-8 Digital Citizenship curriculum. She is an adjunct professor in tech ed, CSG Master Teacher, webmaster for four blogs, an Amazon Vine Voice book reviewer, CAEP reviewer, CSTA presentation reviewer, freelance journalist on tech ed topics, a weekly contributor to TeachHUB, and author of the tech thrillers, To Hunt a Sub and Twenty-four Days (a tech thriller). You can find her resources at Structured Learning.