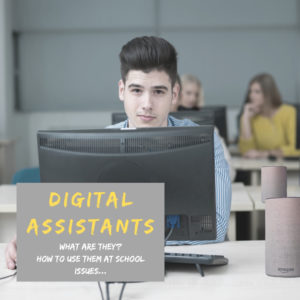 It's been a couple of years since my tech teacher advice column "Dear Otto" got its first question about classroom digital assistants like Google Home and Amazon Alexa. At that time, no one had much experience with these devices so discussion was limited to anecdotal evidence and speculation.
That has changed dramatically. Now, an estimated 20% of U.S. adults own about 100 million of these AI-powered speakers with close to fifteen percent of sales going to education. And why not? They're affordable. They simplify mundane tasks, and students love learning with them.
But that's only part of the story. Let's dig into what they are, how they're being used, and what you need to be aware of before buying one for your class.
What is a digital assistant?
A Digital Assistant is an AI- (artificial intelligence) powered virtual assistant you probably know most commonly as Google Home or Amazon Alexa. It is a physical device connected to the Internet via WiFi that you can talk to, ask questions of, and get help from on particular topics. It will sit passively on a desk or shelf until activated by a key phrase (such as "Hey Alexa") and then will respond in conversational language. Each device is a little different. I won't get into those today but I encourage you to check out the most common options and then choose the one best suited to your needs.
How do you get started?
The first step, before you purchase, is to check with your school and/or District to be sure it isn't contradictory to school policies. Because these are so new, there are questions regarding privacy, applicability to school, and COPPA (Children's Online Privacy Protection Act) compliance for children younger than thirteen. You might also want to get parent permission before allowing students access to the device. Where a couple of years ago, it was the cool new kid in school, now there are enough horror stories about it collecting data and recording conversations even when not enacted — and sharing that without permission — that many stakeholders may be worried.
Although each is a bit different, basically, plug the device in, activate its app on your mobile device and/or tablet, find the school Wifi, and you're ready. You may or may not have to link it to a specific school account and you will definitely want to turn off "purchasing".
Now, start using it. Many powerful functions are available immediately:
translate and define words
play music
answer fact-based questions
solve simple math equations
translate Fahrenheit to Celsius
find the time in other parts of the world
But that's just the beginning. What a lot of people don't know is that these digital assistants support third-party apps (called "skills" on Alexa and "actions" on Home) that enhance their range of activities. About 15% of them are for education while the rest cover categories like games, families, news, home control, shopping, sports, music, and weather. Amazon's Alexa has about 80,000 skills and Google Home about 4200 actions.
How do you use it in education?
Here's how educators are using the digital assistant:
to request spelling help
to verify answers (which doesn't eliminate the need that students show their work)
to act as a timer for a test, circle time, or another activity
to play music when that seems appropriate
to provide metrics on what students are asking or searching
to answer questions kids ask that you don't know
to set voice reminders for a class schedule (like going to a specials class)
to tell a story
to translate words
to satisfy curiosity and promote lifelong learners
to play music so students can pace their keyboarding (because we all know you type faster when your pace is consistent)
to teach about artificial intelligence
to record the class for future playback (if you're clever enough to make this happen)
for morning starters such as the weather, morning news, This Day in History, or a Fun Fact
to provide a timetable for recesses, holidays, teacher hours, and more
for exam review prep
For a nice overview from a teacher, listen to Vicki Davis' 10-minute Teacher podcast with Bill Selak, a teacher using a digital assistant in his classroom.
A note: Most digital assistants prevent children under thirteen (or the applicable age in your country) from completing activities such as access YouTube or Google Play videos and music, make purchases, and using some apps.
What issues should you address before starting?
First, and probably the biggest issue, is that these digital assistants are intended for home use, not school:
"the person was crystal clear – unequivocally, unambiguously clear – that in the classroom, Alexa and Dot posed compliance and privacy issues." — Bill Fitzgerald (@funnymonkey) June 25, 2018
Using smart devices that listen, record, recognize individuals, and track data in a school environment may or may not be problematic but it is unknown territory. Their use risks being non-compliant not only with the Children's Online Privacy and Protection Act (COPPA) but federal legislation that protects the privacy of children under the age of 13. I'm not a lawyer so I'm not saying they aren't compliant. I'm simply saying the jury is still out on this issue. Address these concerns as a school. Know what your legal obligations and student responsibilities are before putting them to use. As of this date, there are no digital assistants specifically designed for the classroom. For example, Google for Education's terms of service doesn't cover Google Home.
Second, I find it a bit creepy that these devices are always listening. They have to be or they wouldn't hear you say, "Hey Alexa" (or whatever phrase activates it). Where both Google and Amazon claim not to be recording anything, many instances have been found where they in fact are. And soon, some devices will come with cameras. Yikes!
Finally, there are a few more pedestrian issues to address before you roll these out in your ecosystem:
Answers may be long-winded for your student attention spans.
The device doesn't understand all students, especially those with speaking difficulties.
Background noise can make it difficult for the device to hear.
Students may ask inappropriate questions.
More than I expected, these assistants weren't used for instruction but instead to play games in the free minutes between activities or at the end of class.
***
Digital assistants are here to stay. If they aren't in your school, they will soon be, no doubt about that. Just be aware of the issues, ask questions, and make sure they are used responsibly. I'd love to hear your experiences with both 1) using the devices, and 2) issues with a roll out. Thanks!
---
Jacqui Murray has been teaching K-18 technology for 30 years. She is the editor/author of over a hundred tech ed resources including a K-12 technology curriculum, K-8 keyboard curriculum, K-8 Digital Citizenship curriculum. She is an adjunct professor in tech ed, Master Teacher, webmaster for four blogs, an Amazon Vine Voice, CSTA presentation reviewer, freelance journalist on tech ed topics, contributor to NEA Today, and author of the tech thrillers, To Hunt a Sub and Twenty-four Days. You can find her resources at Structured Learning.