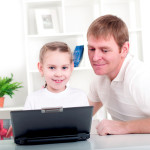 A digital story is a series of images connected with text and/or a narrated soundtrack — captured by a digital device such as an iPad or smartphone — that tell a story. It can be fiction, non-fiction, narrative, biographic, expository, or even poetry. Think of Ken Burns' The Civil War, or Colin Low's City of Gold. Because of its multimedia approach and appealing blend of text, color, movement, sound, and images, it has fast become one of the most popular writing exercises in schools.
According to Center for Digital Storytelling, there are seven elements critical to a good digital story:
Point of View — What is the perspective of the author?
Dramatic Question — A key question that keeps the viewer's attention and will be answered by the end of the story.
Emotional Content — Serious issues that come alive in a personal and powerful way and connects the audience to the story.
Voice — personalize the story with the author's unique writing style to help the audience understand the context.
Soundtrack — Music or other sounds that support and embellish the story.
Economy — Using just enough content to tell the story without overloading the viewer.
Pacing — The rhythm of the story and how slowly or quickly it progresses.
These elements are the goal and may not be included in the first digital story written by a kindergartner, but by middle school, using the vast swath of multimedia tools available in digital storytelling, students will have no problem including all elements.
Writing a digital story includes five basic steps:
Research the topic so you are clear on presentation.
Write a script, a storyboard, or a timeline of activities.
Collect the required multimedia parts — text, images, audio, video, oral selfies, and more.
Combine everything into an exciting story.
Share and reflect on the completed story.
These five steps are stepping stones for beginners and critical to experienced storytellers.
There are so many online options for digital storytelling, rarely is there a student who can't find a webtool that fits their communication style. Here are nine of the most popular. Try them all and then let students pick the one that works best for them:
Free; iOS
Adobe Spark Video is an easy-to-use digital storytelling app for iPads. It integrates text, images, royalty-free clipart, background music, and the students' own artwork into a story they tell and then renders it as a movie to be shared easily through the cloud. As the name implies, the storytelling revolves around the student's own voice. While it lacks many of the bells and whistles of more sophisticated digital storytelling tools, it includes everything necessary to relay exciting, creative stories.
Use Adobe Spark Video to teach all aspects of writing non-traditionally — without the need for pen and paper. This is a great way for writing-challenged students to learn about plot, setting, characters, domain-specific vocabulary, evidence, and the habits of close reading in a non-text way.
Freemium; mobile app
With Puppet Pals, students add their voice-over to a selected cast of characters (only one available with the free version) and animate them to tell a story. The paid version provides additional characters and more storytelling options, but the free version allows for a great deal of flexibility in the writing process as well as an authentic expression of student ideas.
This is a great visual way to act out experiences, teach lessons, share how-tos, make public service announcements, and tell a story from different points of view. It can be used not only for fiction, but narrative, argumentative, and expository writing exercises.
Free for educators; web and mobile app
Storybird is a gorgeous collection of high-quality artwork that has inspired over 5 million learners to write, from kindergarten up. Students pick an artistic theme for their story, then add text to as many pages as they'd like. Once finished, the story is saved as a booklet that can be shared via a link, printed, or embedded in class blogs or websites. Besides saving their own masterpieces, students can view the works of other students in the walled garden of their private Storybird library. The site works on most digital devices and is Common Core-aligned.
Storybird inspires both fiction and non-fiction writing through the use of images. It also reinforces speaking and listening skills as students comment appropriately on the work of classmates.
Fee; web or iOS
VoiceThread is an interactive, cloud-based slideshow approach to digital storytelling that can share images, documents, videos, voice, and more. It's intuitive to use, as simple as adding the media you desire with the click of a button and a drag-drop from your digital device. Once published, viewer comments are appended via typing, audio, or video. As students comment, they can draw on the screen and/or add other documents (images, files, and more) to better explain what's being said. When completed, it's saved as a video and can be shared in a wide variety of methods.
This is one of the most powerful digital storytelling tools, allowing users to share a wide variety of media in support of their story, narrative, documentary, or argument. Because VoiceThread welcomes comments, it is a great way to generate conversation on a topic and practicing speaking/listening skills
***
However you start the use of digital storytelling in your classroom, just start! It will change the way students think of writing.
More about Digital Storytelling
Storyboard That–Digital Storyteller, Graphic Oranizer, and mor
8 More Digital Storytelling Websites
19 More Digital Storytelling Apps
–updated 12-23-18