As a teacher-author who relies on technology to bring my dreams to life, even I am surprised by how often technology can be applied to life. I share these humorous gems with efriends, post them on forums, and incorporate them into conversations with colleagues. My goal is to demystify technology, a topic that remains for many confusing and intimidating. If fellow writers learn to approach it light-heartedly, they'll be more likely to accept it. Here are eleven tech terms I find myself applying daily to many of life's quirks: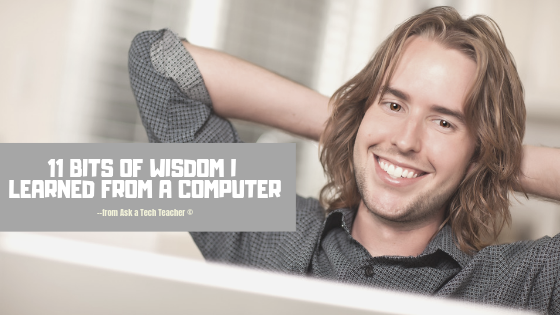 #1: Your short-term memory experienced a denial of service attack
A Denial of Service — a DoS – is defined as: "…an interruption in an authorized user's access to a computer network…" If I'm the "authorized user" and my brain is the "computer network", this happens to me often. Laypeople call it a "brain freeze" and it is characterized as an event, a name, or an appointment that should be remembered but isn't. I simply explain to the class full of curious upturned faces (or colleagues at a staff meeting) that I am experiencing a DoS and ask that they please stand by.
#2: I don't have enough bandwidth for that
"Bandwidth" refers to your computer's capacity for handling the volume of activity thrown at it. I learned how this geeky term applies to life from my millennial daughter. She says "yes" to everything people ask to the point that she can't possibly complete what she promised. When she falls short, she explains that she no longer has enough bandwidth. You might be familiar with the more pedestrian term "the straw that broke the camel's back." "Bandwidth" is a better way of saying it because no animals are harmed in its execution.
#3: Drill Down
"Drill down" is the IT process of digging through layers of nested folders to find the one you want. In the non-tech world, this is the "deep dive" people take to dig into a topic. Since Inc.com lists "deep dive" as one of the twenty-five most annoying phrases, I recommend you swap it with the fresher, more intriguing phrase, "drill down".
#4: When all else fails, try a workaround
Many refer to this as "Plan B" (or C or D). It is an alternate way to accomplish something when the first didn't work. The term "workaround" became popular in the latter half of the 20th century as a method to circumvent a software problem but today, it applies any time you need to find an unusual and creative solution to a problem.
#5: I need to optimize
"Optimize" means "to make as flawless, effective, or functional as possible". It originally referred to computer systems but few remember these lexical roots. Now, it's a pithy way to say you want to perfect a process or solution.
#6: Garbage in garbage out
"Garbage in garbage out" is an old computer term to express the idea that poor quality input results in a poor quality output. It means exactly the same in the classroom. If students don't do what they need to in preparation for a test, they won't get the result they hope for. Ipso facto, "garbage in garbage out".
#7: Garbage collect
"Garbage collect" is where computer folks search out code or processes that are no longer relevant and delete them to optimize the software or app. I don't have the bandwidth to understand the geeky details of this so I use it in unplugged places. If I can garbage collect the irrelevant stuff in my closet or my ToDo list, I can focus on what is important. Thank you, Andrew, for this term!
#8: Live in real time
A decade ago, no one would have thought we needed to differentiate between "real time" — the actual time during which an event occurs — and whatever the alternative is but now, in 2019, we do. I'll give you an example. Chatting via a phone or video call is real time. SMS or text chats aren't. Well, they could be but often, people don't get back to each other in a timely manner in texts. So, when someone wants to chat in real time, they want to call you, meet with you, or have a virtual get-together. They don't want to email.
#9: Life requires decoding
How often do you hear people say, "It's complicated." Which is true —  life is complicated and requires unraveling, explaining, or as geeks like to say, decoding. "Decoding" in technology means to convert a coded message into simply-understood language. It's the same in the classroom and your life. If things have become so confusing that even you can't understand them, they might require decoding.
#10: You only want me for my Baud rate.
In technology, "Baud rate" determines the speed of communication over a data channel. I spent about fifteen minutes trying to Google a layperson definition of this term and failed. There's nothing simple about the technical side of Baud rates but in real life, they're easily understood. If someone wants you for your Baud rate, they want your brilliant ability to communicate ideas. You might admire Winston Churchill's or Yogi Berra's baud rate because they put so much meaning into a few words that everyone understood the message. See if you agree: "Success comes of going from failure to failure without loss of enthusiasm." –Winston Churchill "It ain't over till it's over." –Yogi Berra
#11: Hashtag it!
Hashtags were introduced to social media as an easy search method but quickly morphed into the Internet's version of air quotes – outdated and annoying. At their start, adding #hashtag to your words awarded them a sense of trending-ness, making you worth listening to while boosting your creds. Now, they're more likely to be as viral and intrusive as selfies but for educators who need to teach students where they are ready to learn, what we #hashtag will be remembered so why wouldn't we use it? *** These eleven geeky words inspire my fellow teacher-authors to proudly "put their geek on". Do you have favorites? If you RT, FB, or share, I'll send positive thoughts your way for a full day!
---
Jacqui Murray has been teaching K-18 technology for 30 years. She is the editor/author of over a hundred tech ed resources including a K-12 technology curriculum, K-8 keyboard curriculum, K-8 Digital Citizenship curriculum. She is an adjunct professor in tech ed, Master Teacher, webmaster for four blogs, an Amazon Vine Voice, CSTA presentation reviewer, freelance journalist on tech ed topics, contributor to NEA Today and TeachHUB, and author of the tech thrillers, To Hunt a Sub and Twenty-four Days. You can find her resources at Structured Learning.