A growing focus of schools is STEM. Ask a Tech Teacher contributor, Brianna, has some general observations about STEM education in 2020:
Stem Education in 2020
About two decades ago, the sciences were not so popular among younger generations. People keen on mathematics, physics, or IT were awe-inspiring and seemed to have supernatural abilities. But, the importance of sciences and technologies has grown; that's why professionals in certain fields have become headhunters' "targets." The world's workforce lacked a lot of science specialists, that is why STEM education became more popular.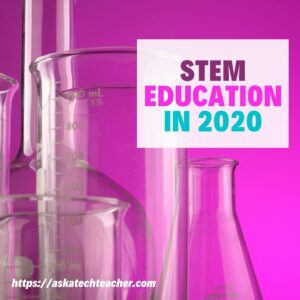 So, what is STEM education? STEM is an acronym that stands for science, technology, engineering, and mathematics. These subjects are being taught cross-disciplinary and in a complex which refers to real situations. This approach fosters the motivation of students which tend to make use of essay help service and tutors to have work done. You might think that there can be nothing new about STEM education in K-12 and higher education. Still, there are several facts you may want to know about.
The Role of Technology
The essential component in 2020 is a T-part of STEM – Technology. It is not only an object of education but a necessary and irreplaceable means of teaching STEM as well. For several years now, we observe a rapid growth of online and remote teaching, learning, and even practicing. Education in various disciplines has undergone significant change with the introduction of VR and AR into the classrooms. Now it is possible to create virtual reality and virtual laboratories for students to practice in. And this is only a small part of the technologies' influence on modern life and education.
Grants and New Opportunities
Currently, numerous STEM courses and grants are launching in many universities and organizations. Moreover, famous corporations and brands are funding them, making it possible for students with limited financial possibilities to get quality education free of charge. Such examples are Ford Motor, Toyota Foundation, and Toshiba. They offer grants not only to students of higher education institutions but at a school level too. The NEA Foundation also promotes grants and projects to underserved communities that do not have access to a quality education process and resources. 
Early Childhood STEM Education
Recent studies have shown a huge effect of studying the basics of STEM, as was noticed by Fashina Alade. She claims that the development of spatial skills in a pre-school has a further impact on the learning abilities of students in STEM disciplines. The researcher also mentions that the adequate use of electronic devices by toddlers can be seen as an advantage in schools and colleges in their future.
Teachers' Lag
The introduction of STEM in almost all branches resulted in a lack of quality educators. In response to it, universities and colleges have united to prepare undergraduate and Master's degrees in STEM education. A lot of courses are still in the preparation process, but they have already figured out the main direction of their work. 
For example, Tufts University has already come up with a Master's program for undergraduates who want to advance in a career as a STEM teacher or professor. Naturally, a lot of educators are showing interest in professional development in STEM. 
Leaders' Cooperation
A Transformational Leadership Framework is now aiming at improving collaboration between teachers and principals at schools. Its purpose is to organize a comfortable teaching environment. In their opinion, it will result both in the improvement of students' skills and the cooperation of teachers in schools. California Academy has also made a lot of efforts, promoting helpful and friendly STEM atmosphere in educational institutions. 
Personalized Learning
Shifting the focus of teachers from material to students as individuals can make personalized learning possible. It means that each individual has to be taught according to student's learning types. A teacher presents material to a student in the most effective and understandable way. Personalized learning will increase the number of proficient students, thus making a huge development in the STEM-oriented workforce.
Learning Resources
STEM has turned out to be appealing not only for students but for their parents as well (which lacked a STEM approach during their school years). Also, there are lots of useful and entertaining resources available on the Web. Science project-based activities for elementary school students ("Spill oil," "Water cycle in a bag," or "It's about time") can attract even those who always thought that math or engineering was not for them. Via such games, students can acquire critical thinking skills and get valuable hands-on experience.
As you can see, the world is changing rapidly, and the education system, as well as many others, should adapt. It's in the hands of teachers, educational institutions, and students themselves to improve and evolve. It's important to remember that all kinds of changes are easier to make with a constructive and manageable approach and plan in place.
More on STEM
PASCO Motion Sensor–A Must for Science Classes
12 Projects for your STEAM program
---
Jacqui Murray has been teaching K-18 technology for 30 years. She is the editor/author of over a hundred tech ed resources including a K-12 technology curriculum, K-8 keyboard curriculum, K-8 Digital Citizenship curriculum. She is an adjunct professor in tech ed, Master Teacher, webmaster for four blogs, an Amazon Vine Voice, CSTA presentation reviewer, freelance journalist on tech ed topics, contributor to NEA Today, and author of the tech thrillers, To Hunt a Sub and Twenty-four Days. You can find her resources at Structured Learning.