Thanks to easy access to internet resources and a serious lack of understanding on the part of many students about what online resources can legally be used, plagiarism has become a huge problem in schools. Students don't have a clear idea about what media–like images, videos, text–are legal to use and what constitutes proper citations. SEO expert, Tara Troy with Copyleaks, explains where plagiarism often happens and then how to avoid it in your work (and she provides her suggestion for a reliable plagiarism checker):
5 Tips for Students: How to Avoid Plagiarism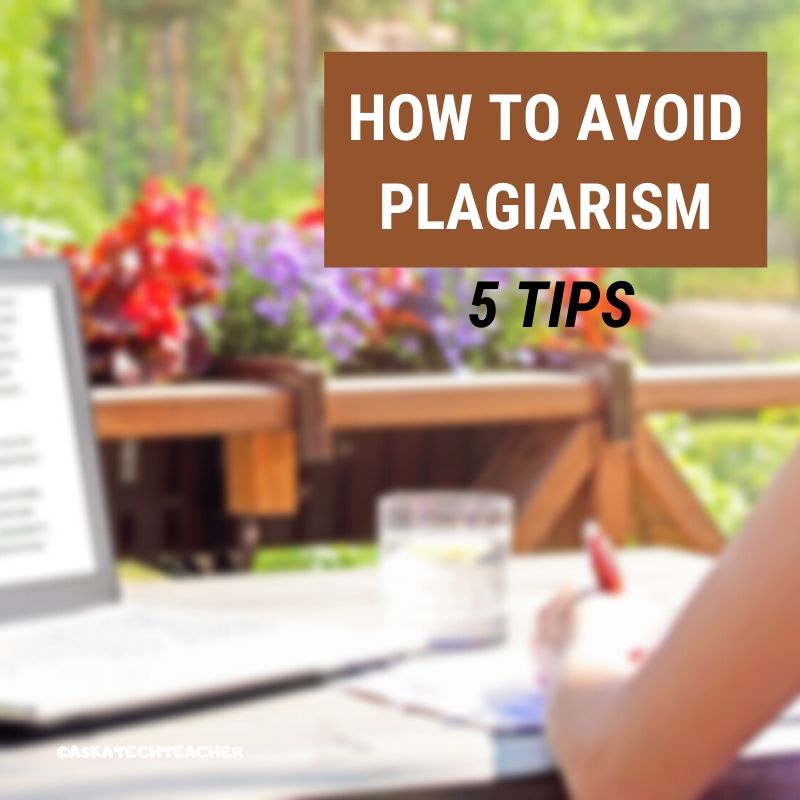 A few well-know issues that diminish the standards of a students' writing are listed below:
Method of citation: There are different styles for citing references. Students have to follow the method prescribed by the school or University.
Missing references: Making simultaneous notes for references taken down for a paper helps in the last-minute rush of inserting footnotes and/or endnotes in a paper.
Grammatical errors: Software aided checking services are highly useful in detecting and correcting grammar mistakes in an academic paper.
Spelling mistakes: Online spell checker detects spelling errors.
Plagiarism: Stealing information and references without correct citations cause the problem of plagiarism. One needs to check for plagiarism with an online plagiarism checker before submitting the paper. Copyleaks plagiarism checker for students is a free online tool that can be used.
Tips for Students to avoid plagiarism while writing
A few useful actions that help in eradicating plagiarism are discussed below:
Initiate the research process early:
Writing everything in a rushed manner often leads to plagiarism. Individuals indeed tend to take down the information and paraphrase it for completing the project quickly. Genuine students are committed to their research activity and attempt to produce new knowledge through their research.
Hence, starting to work on the project meticulously quite early is a prudent decision. Seeking help from teachers also becomes easy when the work gets started early. Confusions and problems do not crop up at the last minute as adequate time is used for discussions.
For students, it is exceptionally significant to develop the habit of writing essays and dissertations individually. Elaborate reading of reference books is a good idea. However, the substantiation of the research arguments has to get carried out without taking the aid of references frequently.
Relying too much on references stunts the process of individual reasoning. References can get added after the primary draft of the paper has been prepared. In this way, the intermingling of outside ideas with one's assessment is prevented. It also lowers plagiarism instances in a paper.
Having too much reference material often leads to the notion that the quality of individual work is not good. But students need to understand that individual work is always better than a plagiarized academic paper.
Make a note of references:
References are essential in the research paper. There can be multiple references for a single paper. In many cases, it has been observed that plagiarism has occurred because reference used has not been cited in the notes and/or works cited page.
This issue cannot be wholly regarded as intentional because the continuous reading of reference books and the long time spent on gathering research material, at times, impairs the memory temporarily.
It leads to missed citations, lack of the source of a reference leads to plagiarism. It is sensible to keep a tab of the references that are gathered for the dissertation. It helps to avoid such unwanted problems.
Students mostly tend to leave the works cited page empty until the paper is completed. This propensity leads to plagiarism in most cases. Forgetting to insert even one citation can result in an instance of copied content in the paper.
Hence, the task of writing works cited has to be conducted parallel with the task of writing the paper. As soon as a reference is used in the paper, an entry requires in the works cited page to avoid confusion and erroneous citations.
Proofread and scan the document for plagiarism:
Once the task of writing the dissertation is over, students have to invest time in checking the written matter thoroughly. Online tools like an essay checker are suitable for fixing grammatical and spelling issues.
Teachers do not overlook these small mistakes. Hence, it is best to avoid those. After writing all references and inserting all the cited works, the tension of having plagiarized text in the paper is not entirely removed.
Thus, using high-quality plagiarism software for detecting plagiarism in a paper is a proper step to erase all kinds of plagiarism issues in the paper.
Conclusion:
In most cases, unintentional plagiarism affects the quality of a research paper. Employing the best plagiarism checker for students is the best method for ensuring that an academic paper is plagiarism-free.
There are multiple plagiarism sites for students. Pupils should carefully select the most advanced plagiarism scanner and should have knowledge about how to check paper for plagiarism.
@copyleaks
More about plagiarism
Plagiarism: What it is and how to identify it
Quick Search for Plagiarized Images
---
Jacqui Murray has been teaching K-18 technology for 30 years. She is the editor/author of over a hundred tech ed resources including a K-12 technology curriculum, K-8 keyboard curriculum, K-8 Digital Citizenship curriculum. She is an adjunct professor in tech ed, Master Teacher, webmaster for four blogs, an Amazon Vine Voice, CSTA presentation reviewer, freelance journalist on tech ed topics, contributor to NEA Today and author of the tech thrillers, To Hunt a Sub and Twenty-four Days. You can find her resources at Structured Learning.