Every teacher I know juggles an exhausting teaching schedule with parent conferences, administrative tasks, and specialized student needs. They take work home evenings and weekends and often are forced to choose between family and job when it comes to allocating a finite quantity of time over what surely seems to be infinite needs.
The teachers I know are also positive thinkers. They always start the new school year with a promise to be more organized, work more efficiently, use available tools to complete tasks faster, and prioritize needs.
There's a problem, though: Where does one start? Scholastic offers a list of one hundred tips, but most require set up time (yikes!)–and worse, non-existent classroom real estate–before they can be used. For my short list, I looked for:
a net savings of time
a way to quickly accomplish common tasks
easy access from digital devices that teachers commonly carry
simplicity, so even when my mind is somewhere else (like on the child across the room or the admin peeking in my door), it performs flawlessly

Here are three that meet all of these qualifications:

Waze (http://www.waze.com) Free

Waze is a free navigation app for GPS-equipped smartphones that bills itself as 'the largest community-based traffic and navigation app'. It includes spoken turn-by-turn directions and the ability to search for destinations by address, category, place name, or landmark. Thanks to its over fifty million users, Waze gives you real-time crowd sourced reports about which highway is jammed, the location of  accidents, where to find the cheapest gas, and when your friends are arriving at the same destination as you. You can even send an 'I'm on my way!' comment to whoever needs to know with a click.
Started in Israel in 2007, feature-packed Waze was purchased by Google about a year ago which means it can share features with–and from–Google's in-house Google Maps.
The learning curve is negligible, user-friendliness is high, and loyal community involvement keeps Waze a go-to tool for commutes. Overall, it tries to cover anything that saves time on your drive.
I have used lots of other traffic management apps, and this one is by far the best. It's intuitive, hits all the high points required for driving, and can be done one-handed with an eye on the road. I never scratch my head over where a feature can be found; I always locate it within a few clicks.
If Waze says there's a traffic jam on a particular stretch of road, odds are good there is one. This is amazing accuracy for a free app.
No account required. You can use Waze traffic features without a log-in. To benefit from the community curation requires an account.
The only ads are occasional pop-ups for nearby businesses, but only when the vehicle is stopped, such as for a red light.
Cons
I read comments that indicated some people found Waze's wide-ranging reporting of traffic conditions, accidents, police reports, and other issues distracting, that they paid too much attention to their Waze screen and not enough to the road. OK. I can see that, though I didn't experience that sort of problem.
Insider tips
Waze notifies users of traffic delays even if you aren't using it to navigate (because it connects to your GPS). It makes sense to activate Waze any time you're in your car, just in case.
Educational Applications
This is a people-edited app, much like Wikipedia is a people-edited encyclopedia. What a great lesson for students to learn about the power of the internet, social media, and one person.
Conclusion
No doubt, Waze will get you through the travel end of a busy, teaching day faster and with less stress than any other tool you select.
Design: 5/5
Functionality: 5/5
Fun Factor: 5/5
Availability: 5/5 (iOS, Android, web)
Overall: 5/5
This slideshow requires JavaScript.
..
IFTTT (http://ifttt.com) Free

IFTTT (If This Then That) allows users to automate web-based functions such as keeping track of the weather or being informed when their picture appears on social media. It does this via 'recipes'–short instructions–you create that direct the app:
if this happens
then that happens.
IF THIS THEN THAT. IFTTT
It connects over ninety-two Channels—services like Facebook, Dropbox, and Gmail as well as devices like Nest Thermostat, Fitbit, and Philips Hue—to automate and empower your life.
There are over 3,000 pages of pre-made recipes users share with the IFTTT community, but you can also create your own by choosing a channel, a trigger, and an action. For example, the channel could be Facebook; the trigger could be when someone tags you in a photo; the action could be to upload the tagged photo to a cloud storage provider like Box. Popular Recipes include:
IF I post a photo on Instagram THEN share it on Twitter
IF it's going to rain tomorrow THEN text me
IF I am near home THEN turn on my house lights
IFTTT is intuitive and user-friendly. It quickly became a favorite of lots of tech-savvy educators because it offers a growing number of ways to automate daily tasks that suck the minutes out of already-busy lives. It is a PCMag Editors' Choice and is becoming one of my favorites for prioritizing and organizing my life.
Grammaropolis is aligned with both national Common Core standards and Texas Expected Knowledge and Skills Objectives for grades K-6. – See more at: http://www.techlearning.com/magazine/0007/grammaropolis/54131#sthash.bauH6spt.dpuf
Pros
IFTTT is easy to understand and use–no programming language required. All you do is these three steps:
select the trigger (the IF statement)
select the action (the THEN statement)
set up Channels (the accounts you're connecting). For example, if you ask IFTTT to post all WordPress blog posts to Facebook, you'll have to connect WP and FB to IFTTT.
It supports dozens of apps and programs with a clear, functional interface.
Cons
When I signed up, IFTTT automatically activated ten channels that I hadn't chosen. It's easy enough to de-activate them, but it should only do what I request.
Which brings up a bigger issue: It requires access to lots of my personal accounts to make these recipes happen. That requires a leap of faith that it won't be hacked. If you aren't comfortable with that trade-off, this app may not be for you.
Some automations take longer than others to take effect.
I am told that there are no warning flags if a channel used in a current recipe is deactivated. Truth, I haven't used it long enough to test this.
I wasn't able to create a recipe on the iPad–though it worked fine on my iPhone and the web.
Insider tips
I tried this early in its life and abandoned it as more trouble than it was worth, but recent glowing reports from opinion leaders in my industry made me give it a second chance. I'm glad I did.
Educational Applications
A favorite of several educators I know is to collate ed articles into a feed using IFTTT. Here's how it would look: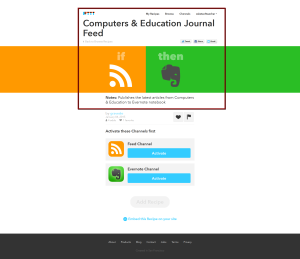 More great ways my PLN uses IFTTT to prioritize and organize their day:
When you take pictures of class activity, have IFTTT automatically send it to your blog, class website, or class FB account.
When parents email you, if you don't check your email as much as your text messages, have IFTTT text you.
When students submit an exit ticket with a specific #hashtag, IFTTT can collect all of those into a folder for easy identification
Automatically tweet reminders (or email or message them) of an important upcoming event
Automatically publish class blogs and webposts to a school blog or website
If you run a stock market game in your classroom, IFTTT can notify (older) students when their stocks change
The If-Then statement is a powerful critical thinking and math sentence. This app uses this authentically and granularly. Have students program functions like 'if I complete my homework, then submit it to my teacher'.
Even better, leave a comment about how you could use it during Hour of Code next year.
Conclusion
If you don't worry about allowing access to your files by automated bots, IFTTT will make your life infinitely easier with automated tasks that run in the background.
Design: 4/5
Functionality: 4/5
Fun Factor: 5/5
Availability: 5/5 (iOS, Android, Web)
Overall: 4/5
This slideshow requires JavaScript.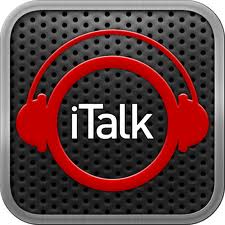 ITalk (https://itunes.apple.com/us/app/italk-recorder-premium/id296271871?mt=8) Free; $1.99 for Premium

ITalk may be the only education app offered by Griffin Technology, a well-regarded creator of Apple gear, but it's a home run. It is a full-featured recording app with an intuitive user interface. It initiates with a big red button. Press it to record; press it again to stop. You can append to existing recordings, choose from three levels of recording quality, and email recordings (under 2 MB) or file share through iTunes.
It does include ads, but they're subtle banners across the bottom of the screen. I didn't find any that would be objectionable for students in the time any of the times I used it.
Grammaropolis is aligned with both national Common Core standards and Texas Expected Knowledge and Skills Objectives for grades K-6. – See more at: http://www.techlearning.com/magazine/0007/grammaropolis/54131#sthash.bauH6spt.dpuf
Pros
When I emailed an audio recording to myself, it worked fine, though it was sent as an .aiff file. These files are common to Apple products, but not so much PCs. Since I have a Windows-based device, the only 'open' options I had were through Windows Media Player and iTunes. That may be different if you open via a Mac.
No technical knowledge required to use this app. Three cheers!
Cons
Although getting started was a snap, appending and emailing recordings took some guesswork. That may be different in the Pro version (for a fee).
The app is optimized for iPhone 5–not yet for iPhone 6–but I didn't see any problems when I tested it in an iPhone 6. I'll let you decide.
Insider tips
You need to manually turn on the microphone through settings. Not a problem–just surprising. Most apps do that automatically.
Emailing the recording was not as intuitive as I expected. After you've recorded a message, click the blue information icon to the right of the recording. There, you'll find the email option (the red arrow icon) in the upper right corner. Now that I know which screen to access, it is easy!
Educational Applications
Because the app uses a big bold red start button, it's easy to use for even young students. Use it to record students individually, in pairs, or in groups, reading or practicing speaking and listening skills. These can then be shared, curated, or used to track progress. You can also record your class (premium allows recordings over fifteen minutes) and then make it available via iTunes or iTunes U for anyone who missed the session. It is also great for recording meetings you'd like to review later.
Conclusion
If you're looking for a recorder simple enough for young children with all the basics, iTalk is your answer.
Design: 5/5
Functionality: 4/5
Fun Factor: 5/5
Availability: 4/5 (iOS, iPhone, iPad)
Overall: 4/5
This slideshow requires JavaScript.
These three apps will organize, maximize, and prioritize your day with nominal effort and no extra time on your part (well, you do have to download them). Do you have favorites that have made a difference in your daily schedule?
---
---
Jacqui Murray has been teaching K-18 technology for 30 years. She is the editor/author of over a hundred tech ed resources including a K-12 technology curriculum, K-8 keyboard curriculum, K-8 Digital Citizenship curriculum. She is an adjunct professor in tech ed, Master Teacher, webmaster for four blogs, an Amazon Vine Voice, CSTA presentation reviewer, freelance journalist on tech ed topics, contributor to NEA Today, and author of the tech thrillers, To Hunt a Sub and Twenty-four Days. You can find her resources at Structured Learning.