Hi there, my name is Roman Zhidkov, a happy contributor to Ask a Tech Teacher. I'm the CTO of a tech company and for more than five years I have been busy with teaching programming courses and sharing my expertise with novice specialists. I can tell from experience that it's a prerequisite for a teacher to follow trends due to the fast-changing market and nuances of working with young professionals with a progressive mindset.
Besides, the living conditions can dramatically change at any moment like it has been with the COVID-19 pandemic. That's why it's better to prepare for any changes in advance. So, in this article, I'm going to share my thoughts and experience about the technologies and solutions that reshape the educational industry and the way we learn in 2020 and beyond.
6 Edtech Trends to Keep an Eye On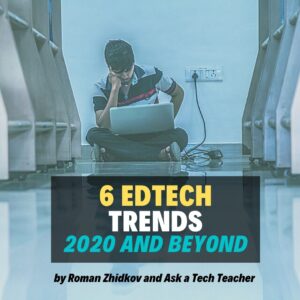 The educational field was constantly evolving along with new technologies even before the pandemic. However, due to the rapid spread of the coronavirus and the global lockdown, distance learning became vital in 2020. That led to a rise of different e-learning platforms and solutions such as learning management systems (LMSs), learning experience platforms (LXPs), learning analytics platforms (LAPs), and so on. All that opened a lot of doors and possibilities for both teachers and students.
Integration of various technologies can help you to improve the courses, making the process more engageable, immersive, personalized, effective, interacting, etc. Below you'll find 6 tech trends that are must-have in 2020 and beyond. Let's analyze them to find out what profit they offer.
Video-Based Learning
Do you know that 70% of millennials used YouTube videos for learning something new even before the quarantine? And due to the pandemic, video-based learning is booming in distance learning conditions because all we — teachers — were forced to use the technology during the lockdown.
And I can say that watching my students, who come to my courses to gain knowledge, the effectiveness of learning not only didn't begin a downturn but raised. Videos are extremely beneficial to make content comprehensible and enrich lessons. All that not only improves the learners' outcomes but reduces teachers' workload.
The key features of video-assisted learning are scalability and repetitiveness. Thus, you can record a series of lectures and students can watch them at any time, anywhere. Besides, lecturers can prepare such types of videos as:
Classroom-based

Educational and/or topic-based

Technology-based videos with screenshots, charts, images along with a description, etc.
So, it's more likely that educational institutions and organizations will keep investing in building educational and interactive videos to make learning more interesting. 
Blockchain Technology
Blockchain is associated with cryptocurrency. And I can tell from my experience that it really works fine with crypto tokens. However, it's far from the only use of the technology and it can be applied in many fields including education. Thus, online courses can be programmed into the blockchain. 
For instance, due to the blockchain's smart contracts, the completion of all the tasks set up by educators can be verified automatically and the independent teachers could even receive fee with crypto. Besides that, blockchain can secure all the data kept and exchanged like student records, all the educational materials, certificates, and so on. 
Gamification
Thanks to gamification, educators can turn learning into a more engaging and fun process. Adding gaming elements or turning the lesson into a video game helps to create a positive learning environment.
Herewith, programming is one of the demonstrative fields where gamification is extremely effective. Turning the process into a game by means of different tools makes students to:
Be actively involved in the process

Gain higher scores

Digest the material and arrange it better
However, not only programming courses but higher education or corporate training can implement fun elements for improving the engagement level of learners.
AI-based Chatbots
According to the predictions, 47% of organizations are going to integrate and use AI-based chatbots in the near future. Due to the fact that AI-based chatbots are in demand today, I teach my students to develop them.
Besides that, they play a key role in LXP solutions that are used for discovering professional learning opportunities as well as delivering more personalized learning content. That's vital for some organizations and companies to keep the level of the workers. So, AI chatbots integrated into the educational process can:
Automate the basic activities in education like checking tests and grading

Provide 24/7 assistance to the students

Monitor the user's behavior

Offer additional educational materials

Give custom-tailored guidance

Impart expert knowledge, etc.
Big Data And Learning Analytics
Online learning is booming because of the COVID-19 and now we have bigger data than ever before. Currently, we need to gather and store not only the materials but students' information like the course's topics, environment, performance, feedback, and so on. The latest technologies help us to collect all the needed data and analyze it more efficiently and accurately. Therefore, big data and learning analytics allows teachers to:
Measure and report student learning

Personalize the process

Better understand what type of information works best

Reveal the gaps and blocks in the early stages

Improve knowledge and skill acquisition

Help students to reach their full potential
VR and AR
Since Virtual Reality (VR) and Augmented Reality (AR) came to education, the learning process and experience has undergone an extreme change. First and foremost, it became more immersive and interactive.
VR

gives a constructed reality with any situation simulated.

AR

provides an enhanced view of a real image.
Both technologies help to explain complex concepts where lab experiments and plain images don't provide a broad picture of things. Thus, for example, the technology can be used as a simulator for interviews of developers. So that fresh specialists can better prepare for it or just know what is waiting for them, and what they need to do/know.
Certainly, the applicability of the technologies is even wider in such fields as healthcare and STEM (Science, Technology, Engineering, and Mathematics). So, medical students can get practice, get a robust picture, and experience real surgeries without any risk to the patient's life. Besides, different scenarios can be simulated to prepare them for some extreme situations.
Bottom line
Talking about educational technology trends, we all know that there is a lot to digest and improve. However, it's a fact that high technologies have already seeped into the education field. The emerging solutions renewed and reshaped both the learning and teaching processes. Integrating and adopting these 6 edtech technologies will not only make the learning more engaging, interactive, accessible, and effective but reduce the workload for the educators by automating a lot of tasks like grading and verification. Just keep watching new trends appear to stay tuned and get most of them.
About the Author
Roman Zhidkov is a CTO at Kharkiv-based DDI development and a practicing lecturer with 8 years of experience in various programming courses. His teaching expertise and innovative approach became a jumping-off place for many talented IT professionals. His main mission is to make the classroom innovative and students motivated.
@DDI_Development
#edtechtrends
More on education trends
13 Teaching Strategies to Shake up Your Remote Teaching
Teaching Online During COVID-19–More from my Inbox
8 EdTech Trends to Watch Out for This 2020
---
Jacqui Murray has been teaching K-18 technology for 30 years. She is the editor/author of over a hundred tech ed resources including a K-12 technology curriculum, K-8 keyboard curriculum, K-8 Digital Citizenship curriculum. She is an adjunct professor in tech ed, Master Teacher, webmaster for four blogs, an Amazon Vine Voice, CSTA presentation reviewer, freelance journalist on tech ed topics, contributor to NEA Today, and author of the tech thrillers, To Hunt a Sub and Twenty-four Days. You can find her resources at Structured Learning.