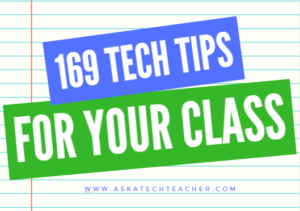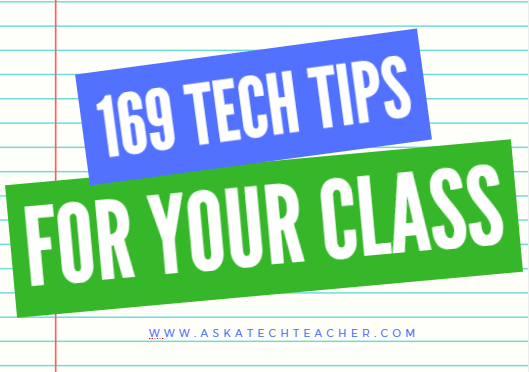 In these 169 tech-centric situations, you get an overview of pedagogy—the tech topics most important to your teaching—as well as practical strategies to address most classroom tech situations, how to scaffold these to learning, and where they provide the subtext to daily tech-infused education.
Today's tip: #146–18 Ideas for Warm-ups, Exit Tickets
Category: ASSESSMENTS
Sub-category: Classroom Management, Writing, Differentiation
Here are eighteen ideas for class warm-up and exit tickets:
Use a virtual wall like Padlet to post the Big Idea of the day. This is shared with students. See inset.
Read a teacher blogpost and respond.
Answer summative questions curated via a flash card deck (like Quizlet).
Post to a virtual wall (like Padlet) about something student didn't understand. Answer a classmate's question.
Tweet out the 140-character Big Idea of the day, using a unique #hashtag.
Add a blogpost with Five Fast Facts about today's material.differ
Add a 3-2-1 blogpost: 3 student questions; 2 things they learned; 1 thing they want to know more about.
Draw a picture summarizing today's lesson using a digital drawing program (like Sumopaint).
Use a whiteboard program or a mindmapper (like Popplet) to brainstorm the lesson with a partner.
Add the Big Idea student took away from the lesson to a Google Spreadsheet, a Google Form, or a virtual wall (like Padlet).
Take a poll (using Google Forms), selecting what student saw as the most important point in the lesson.
Add three pieces of prior knowledge required to understand the lesson to a collaborative mindmap.
Answer an open-ended question posted by the teacher to a backchannel device (like Padlet—see inset).
Create a Voki to ask and answer a question about the day's lesson. Upload it to the class website.
Take a screenshot of student daily notes; upload to Fotobabble and have the image discuss the notes.
Use an infographic tool to create a timeline or storyline based on the day's lesson.
Review project with a neighbor, based on a rubric.
Verify that neighbor saved their document correctly, to the student digital portfolio or class server.
Here's a webinar on warm-ups and another on exit tickets.
Sign up for a new tip each week or buy the entire 169 Real-world Ways to Put Tech into Your Classroom.
---
Jacqui Murray has been teaching K-18 technology for 30 years. She is the editor/author of over a hundred tech ed resources including a K-12 technology curriculum, K-8 keyboard curriculum, K-8 Digital Citizenship curriculum. She is an adjunct professor in tech ed, Master Teacher, webmaster for four blogs, an Amazon Vine Voice, CSTA presentation reviewer, freelance journalist on tech ed topics, contributor to NEA Today, and author of the tech thrillers, To Hunt a Sub and Twenty-four Days. You can find her resources at Structured Learning.