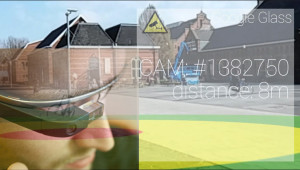 Just as the teacher's job has changed from 'sage on the stage' to 'guide on the side', so too has the student's job. Take a peek into the near future at tomorrow's student. Today, you'd call this child the 'techie' minority. Tomorrow, s/he'll be the majority.
S/he is no longer a passive observer of his/her educational journey, expecting a teacher to impart knowledge that will shape his/her future. Tomorrow's student takes charge of their learning, sifts through available options and selects what works for them, spirals up or down when required, asks for scaffolding when it's lacking, accepts accountability for their progress as a stakeholder in the process, adapts to change as needed. They look for rigor in their learning environment and rise to the challenge when required.
These future students expect to collaborate, share, publish, contribute, and participate in a community of learners.
In some cases, the future has already arrived
What's all that mean? Let's add detail.
Use technology
While teachers may feel overwhelmed by the non-stop changes in technology, all but the geekiest students often feel the same way. Yet, truly, they are the ones who will benefit from technology so they will begin to accept its importance in support of their educational goals. That means they will decide:
what program or tools work best for what inquiry
how to decode tools that facilitate their learning, even if they've never before used them
how to self-assess knowledge, insuring they got what they need
Early in their academic career, students already use a wide range of web tools that address varied needs of audience, task and purpose. Additionally, they learn new ones as needed.
Do you want to stop me here–say that's your job, as 'teacher'? If it is now, it won't be soon. Your job in the future will be to empower students, show them the authentic applications of knowledge and its impact on their lives, to provide options. Their future will depend upon their ability to deliver.
Speak technology
If students want to become 21st Century learners but don't understand the meaning of terms like 'upload', 'cloud', 'icloud', 'publish', they will fail to achieve their goal. They will use this domain-specific language in their daily lives, in their education endeavors. If they don't know the meaning of a word, they'll employ online dictionaries to decode it in seconds.
This isn't geek-speak. This is using the right word for circumstances, like math and science terms.
Thrive in the digital world
Students in the future will be good digital citizens. They will understand that on the internet, they are not anonymous, that the digital neighborhood enjoys the same rights and responsibilities as any physical neighborhood. Sure there will still be cyberbullies, but no more than you'd see on today's playground. The virtual world will be as real to the student as the physical world is today. Sure, that's frightening, but an unknown future is a scary place.

Be problem solvers
Students will try to solve tech problems. They won't immediately think figuring out why the monitor doesn't work is the job of a teacher or their geeky friend. They'll use common problem-solving strategies like:
Use tools available to solve a problem
Observe and collect data
Be aware of surroundings
Notice the forest and the trees
Try to solve problems before asking for help
Think logically
Never say 'can't'
Act out a problem situation
Apply inductive reasoning
Break a problem into simpler parts
Distinguish between relevant and irrelevant information
Draw a diagram
Guess and check
See patterns
Translate data into mathematical language
Try, fail, try again
Use conjecture and evidence to develop valid rules and procedures
Use proportional reasoning
Use what has worked in past
Work backwards
Learn non-traditionally
Classes will be available online as well as in-person. If students miss a class, they go to the online taping of it. If students can't get to school, they participate through a real-time interactive class. No more snow days.
Classes are interactive. Students listen, work in groups, comment via the class backchannel, share work and knowledge with classmates as well as the teacher
Become excellent typists
Keyboarding is the future's handwriting. It's a core subject with the expectation that students will be accomplished typists early. The teachers set standards, answer questions, but the student pursues a curriculum with the help of parents, friends, all grade-level teachers, and real-time student get-togethers.
Some consider typing 'old school', being replaced by oral commands. They're right, but it'll take a while.
Share their knowledge
Students expect that their work is shared with others. They facilitate that with blogs, forums, Google Apps, cloud-based storage. Students are comfortable assisting others who don't understand a topic as well as they do because the favor is returned. It's part of what's expected in school, like being polite and not swearing.
Here's an infographic of what this future student might look like: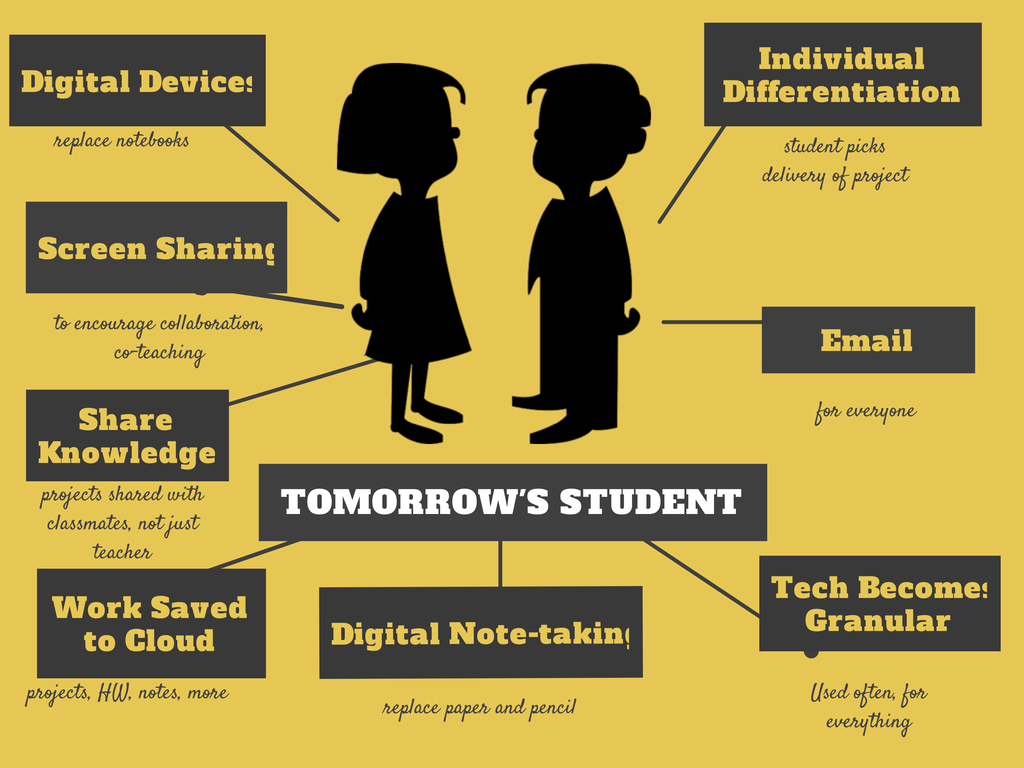 Tomorrow's student is in charge.
Check out these articles on Edutopia's take on education and Google Glass, David Thorburg's many thoughts on 3D Printing in the classroom–and Gooru's take on Microsoft's Wearable Technology.
---
Jacqui Murray has been teaching K-18 technology for 30 years. She is the editor/author of over a hundred tech ed resources including a K-12 technology curriculum, K-8 keyboard curriculum, K-8 Digital Citizenship curriculum. She is an adjunct professor in tech ed, Master Teacher, webmaster for four blogs, an Amazon Vine Voice, CSTA presentation reviewer, freelance journalist on tech ed topics, contributor to NEA Today, and author of the tech thrillers, To Hunt a Sub and Twenty-four Days. You can find her resources at Structured Learning.