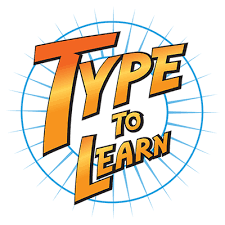 When I started teaching a decade ago, Type to Learn was the MS Word of typing programs–everyone used it. The game-based keyboarding program was fun, engaging, and actually worked. Students graduated from the thirty-forty lessons (that took about a year to get through) with the skills they needed to become fast and accurate typists who could use the keyboard as an effective tool in both classwork and homework.
At some point in the past, busy teachers moved away from a committed program that teaches typing to solutions that promised to automate the process with rote drills and games. With most of these freemium online programs, students log in and get started. No installation, no set-up, often little supervision, just typing. The problem is, they don't work very well. With the push to move assessments online, students need good keyboarding skills. That means:
…fast accurate typing as a tool for writing and test-taking, not a distraction
If you're one of the many who realize your students' typing skills aren't up to this standard, you'll love Type to Learn's game-changing update: It's now in the cloud. No more software downloads. No more inability to sync between home and school. No more "runs only on desktops and laptops".
Let me back up and describe Type to Learn Cloud. It's a comprehensive typing program that teaches not just the basics but advanced skills necessary to become fast and accurate touch typists. It does this through a process of review, demonstration, practice, and assessment. Using avatar-like animation, engaging sounds, and colorful graphics, rolled out in a space-themed story, students progress through thirty-six lessons, five games per lesson, and seven assessments to complete the interactive missions that will save their world.  It operates in the cloud, works on most digital devices (including Chromebooks and iPads with an external keyboard), and plays well with all browsers. Students can work from home or school and their progress syncs between the two.
How to get started
Here's what you do to get started with Type to Learn:
Contact the folks at Tyle to Learn to set up your personalized account.
Once you're set up for the type of licensing you require, log into your account with your account code and login info. This takes you to your teacher dashboard where you will find student reports and more.
Add classes.
Add students (or import them). Your account licenses you for a certain number of users.
The first time students log onto Type to Learn, an introductory video explains their part in the mission and how they can progress through activities.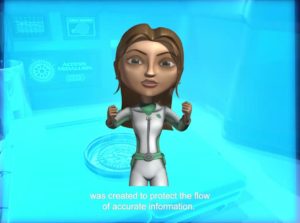 Then, they take a pretest to assess their skills and place them at the right spot in the thirty-six lessons so they are challenged rather than bored.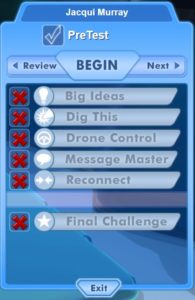 Here's a typical lesson: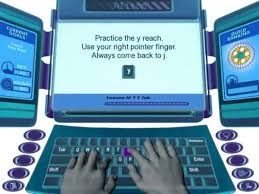 At any time during practice, students can click back to review but cannot move forward until they've finished all required preparations.
Teacher accounts include a dashboard that provides a list of students, detailed reports on student and class progress, the ability to create certificates, and more. Also from here, teachers can set class/student speed and accuracy goals, group students based on ability, and differentiate instruction through custom content.
Insider Knowledge
From the game screen, students have the ability to personalize some aspects of the program.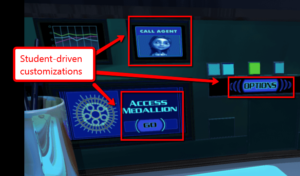 For ease of accessibility, students can also adjust font size and play audio with rollover buttons.  Students can also ask for help on any part of the program they don't understand (with the 'Ask Agent' button). One more feature you won't find anywhere else (at least, I didn't): Text support throughout Type to Learn can be in English or Spanish.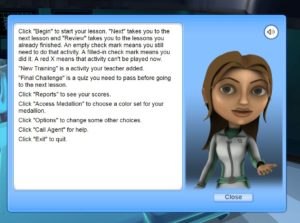 Teachers can upload custom content for keyboard practice. This might include current events, vocabulary sheets, word lists, or other written content. These can be assigned to individual students, groups, or entire classes.
The methodology behind Type to Learn is based on research that highlights keyboarding technique, ergonomics, and key location. Here's a link to their white paper.
A parent report can be accessed from the student login which allows parents to track their child's typing progress and scores.
While the program does say it's for K-12, it may be challenging for Kindergarten and 1st Grade. Though there's not a lot of reading, that age group tends to be distracted simply finding the keyboard much less worrying about key placement!
Because Type to Learn is cloud-based, it is easy to assign practice not only for classwork but homework, allowing students to work on keyboarding from any device, from anywhere with Internet access.
If you used Type to Learn in the past and parents had to download what often became complicated (read that: confusing) software to run the program at home so it would sync with the school records, those days are over. Now, students simply access the Type to Learn website, log into the student account, and pick up where they left off.
As a current user of Type to Learn 4, I wondered if it was compatible with Type to Learn Cloud and how that-all worked so I contacted their support folks. Here's what they told me:
"TTL4 customers can upgrade to TTL cloud.  TTL4 customers are offered special pricing to upgrade their existing TTL4 web-enabled account (their data is stored in the cloud) or their existing TTL4 network version (stored on their servers) to the new Type to Learn cloud version.  If they have a TTL4 web-enabled account we can automatically move all their existing data – students, teachers and student progress to the cloud-based version at no cost.  Sunburst no longer sells TTL4 and any new customer will be sold a TTL cloud version.  TTL4 is still up and running to support existing customers but little to no support is offered from Sunburst."
***
Type to Learn is the original school typing program, what others aspired to be, with a fun blend of games and drills not replicated anywhere else. With the addition of cloud-based access, it becomes again a solid choice for any school as part of an effective, integrated keyboarding curriculum.
More on keyboarding
Tech Ed Resources for your Class–K-8 Keyboard Curriculum
My Students Think Hunt-and-Peck is Good Enough. What do I do?
---
Jacqui Murray has been teaching K-18 technology for 30 years. She is the editor/author of over a hundred tech ed resources including a K-12 technology curriculum, K-8 keyboard curriculum, K-8 Digital Citizenship curriculum. She is an adjunct professor in tech ed, Master Teacher, webmaster for four blogs, an Amazon Vine Voice, CSTA presentation reviewer, freelance journalist on tech ed topics, contributor to NEA Today, and author of the tech thrillers, To Hunt a Sub and Twenty-four Days. You can find her resources at Structured Learning.