Tagged With:
assessments
Dear Otto is an occasional column where I answer questions I get from readers about teaching tech. If you have a question, please contact me at askatechteacher at gmail dot com and I'll answer it here. For your privacy, I use only first names.
Here's a great question I got from Mary:
We are required to create 2 measurable Student Learning Objectives this year. Last year was our first year having this requirement so mine centered around 6th grade and their mastery of technology vocabulary. They didn't fare so well. I need suggestions of what specific skills I could include this year. We are required to have pretest data, midyear data and end of the year data to show gains. I thought about assessing keyboarding but most of it is assigned outside of class as I only see each group an hour a week so honestly gains would be minimal there as well. Ugh. Any suggestions??
Hi Mary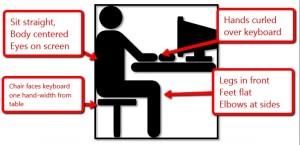 I think keyboarding is a good assessment choice. Especially by 6th grade, students should be improving their keyboarding as much by authentic use in classroom projects and communications as through drill–or more so. Let students know the correct way to keyboard (posture, habits, do it right every time they sit at a computer–that sort–there's a lot of information on that in my keyboarding book here). Share this with other grade-level teachers, parents, even the library media specialist. Make it clear to students that wherever they use a computer, they use good habits. Then, assess them regularly to track progress.
The fact that you only see students an hour a week is fine. Technology should be a tool that students use outside of your hour a week with them–in their core classes, for homework, for projects, in their family life. This brings up another good assessment–tech use. Students can start the year with a blog (Kidblog, Edublog, GAFE's built-in Blogger). Their first post can be a discussion of how they use technology. Then, ask them to post once a week (or a couple times a month) on how they use technology in their life. It could be for a class project, communicating with friends, reflecting. It must be evidence-based and include a sample of whatever they used technology in (via an embed or a screenshot). Then, ask them to comment on the posts of friends–use suggestions from friends in a future project. Assess this activity based on how they use technology and share their knowledge–not the perfection of the project.