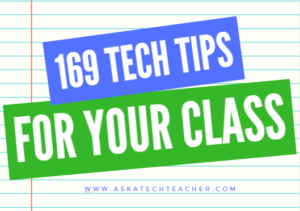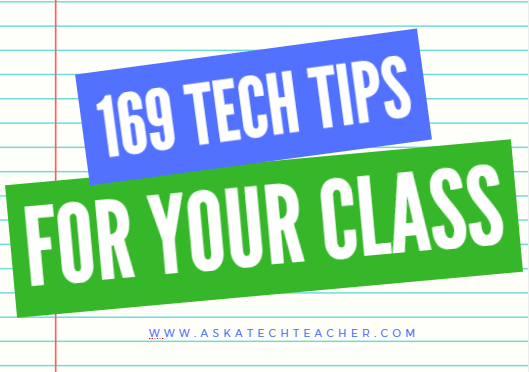 In these 169 tech-centric situations, you get an overview of pedagogy—the tech topics most important to your teaching—as well as practical strategies to address most classroom tech situations, how to scaffold these to learning, and where they provide the subtext to daily tech-infused education.
Today's tip: #151–8 Popular Year-long Assessments
Category: ASSESSMENTS
Sub-category: Classroom management
Keyboarding speed and accuracy (or pre-keyboarding for youngers). Teach students the correct way to keyboard (posture, habits, hand position–that sort; there are general guidelines in the inset and detailed information in this keyboarding curriculum). Share this with other grade-level teachers, parents, even the library media specialist. Make it clear to students that wherever they use a computer, use good habits. Assess them anecdotally regularly to track progress.
Tech use—evaluate student self-directed use of the technology they have learned in class projects. Anecdotally verify that they are applying their learning.
Problem solving—expect students to solve their own tech problems, or at least attempt it. This can start with you demonstrating the solution and then relying on students to remember and use what they've seen.
Self-directed use of vocabulary tools—expect students to use domain-specific tech terms as they use technology. If they don't understand a term, expect them to use readily-available digital vocabulary tools (right-click tools, a resident dictionary program, and/or a dictionary browser app or extension like the Google Dictionary Chrome extension) during literacy classes to decode unknown words.
Effort—assess student tech knowledge based on process not product. If students performed to the best of their ability, that's applauded.
Teachingothers—expect students to share their knowledge with classmates. 'Ask three then me' is a popular effective approach to tech learning in the classroom.
Quizzes/tests taken in tech class—occasionally, quiz students on their knowledge through rubrics or summative assessments.
Anecdotal observation—observe student use of technology in class and anecdotally assess their ability to solve problems, complete work, and help others.
Sign up for a new tip each week or buy the entire 169 Real-world Ways to Put Tech into Your Classroom.
---
Jacqui Murray has been teaching K-18 technology for 30 years. She is the editor/author of over a hundred tech ed resources including a K-12 technology curriculum, K-8 keyboard curriculum, K-8 Digital Citizenship curriculum. She is an adjunct professor in tech ed, Master Teacher, webmaster for four blogs, an Amazon Vine Voice, CSTA presentation reviewer, freelance journalist on tech ed topics, contributor to NEA Today, and author of the tech thrillers, To Hunt a Sub and Twenty-four Days. You can find her resources at Structured Learning.