I've long been intrigued by the physical keyboards teachers and homeschoolers use to introduce keyboarding to the youngest typists. I occasionally get questions from readers about them, but never have a good answer. Then I ran into Dr. William Morgan on one of the education forums I frequent and was thrilled that he knows a lot about them and was willing to share his expertise to kick-off a mini-seminar in classroom keyboarding. Over the next several weeks, I'll post a wide range of articles to help you integrate keyboarding authentically and rigorously into your classroom curriculum.
Enjoy this!
The QWERTY keyboard is at the core of digital communication. Students are digital natives, but as of yet, no child comes to class naturally able to navigate the QWERTY keyboard. Teachers don't have time to teach each child how to do this, so, much of keyboard learning is done by self-directed games. The issue is that levels students obtain don't always translate to keyboard mastery. This is apparent when students are asked to word process for other assignments. If students wait to receive formal instruction in secondary grades they may already have too many bad habits engrained (Fleming, 2002). Besides, we want our children to communicate with digital effectiveness in elementary school! So, at what age and how should we deliver keyboarding instruction?
These are issues I set out to address when I created "PreKeys: Preparing Young Students for Home Row Keyboarding." PreKeys is a series of unplugged, engaging, developmentally appropriate activities that introduce keyboarding concepts while preparing students for home row keyboarding. Lessons incorporate discovery learning based on National Standards (e.g., National Association for the Education of Young Children, International Society for Technology in Education).
PreKeys is based on Piaget's Developmental Stages, Gardner's Multiple Intelligences Theory, and social learning research. Rather than children sitting at individual com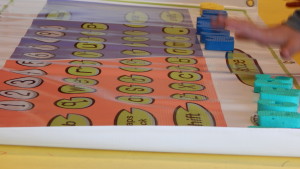 puter stations typing drills, students begin unplugged, working in groups on a gross-motor mat discovering letter patterns and number sequences. We want our students to look at the keyboard as they develop muscle memory!
PreKeys Kids move from the large-motor mat on the floor to "poke pads" at the table. They start with what they know: lining fingertips along the number row. They proceed row by row, discovering the unique characteristics of each row. For example: The letter A is the only vowel on the home row; all the other vowels are found on the QWERTY row; there are zero vowels on the "Z row." In addition, letters A through G are left hand letters while H through P are right hand letters. Pattern recognition has a high correlation with intelligence.  Children who recognize patterns on the QWERTY keyboard are much more comfortable typing on it with ease.
Educators use PreKeys with students as young as four and five years old.  Each lesson comes with songs and activities perfect for any teaching setting from big groups, to individual time, to playtime. PreKeys prepares young students comfortably and effortlessly, for home row keyboarding.
I highly recommend that the QWERTY keyboard be used as a visual aid to supplement Language Arts and Math: for the number line, number sequencing, the alphabet, capital and lowercase letters, spelling, and vocabulary. Please share your ideas of how you use the QWERTY keyboard to teach core curriculum in your room. Come join the conversation at PreKeys.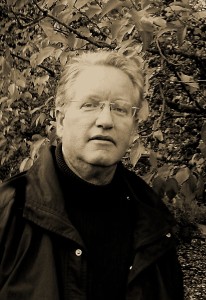 Dr. William L. Morgan (Ph.D., Utah State University, 2003) is an elementary educator
who spent over 20 years teaching and evaluating effective integration of classroom technology. After observing the growing digital gap between technology standards and actual skills he developed "PreKeys: Preparing Young Students for Home Row Keyboarding."
Upcoming articles on keyboarding:
(some aren't available yet–come back soon to find them)
KidzType–the Keyboard Practice Site You've Been Waiting For
Keyboarding and the Scientific Method
Dear Otto: How do I Make Keyboarding Collaborative?
A Conversation about Keyboarding, Methods, Pedagogy, and More
Need a Keyboard Curriculum:
---
Jacqui Murray has been teaching K-8 technology for 15 years. She is the editor/author of over a hundred tech ed resources including a K-8 technology curriculum, K-8 keyboard curriculum, K-8 Digital Citizenship curriculum. She is an adjunct professor in tech ed, CSG Master Teacher, webmaster for six blogs, an Amazon Vine Voice book reviewer, Editorial Review Board member for Journal for Computing Teachers, CAEP reviewer, CSTA presentation reviewer, freelance journalist on tech ed topics, and a weekly contributor to TeachHUB. You can find her resources at Structured Learning.