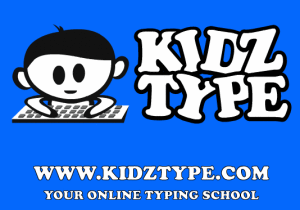 One question I get urgently and often is how to teach students to keyboard. With so much of student performance based on their knowledge of using computers and keyboards, it's become the tip of the sword in preparing students for learning. Teachers are struggling to find ways to teach keyboarding that transfers those skills to real-life situations (like testing).  Online typing sites mean well, but can't be used in a vacuum. Too often, they're rolled out as the only tool in the typing kit. This means they try so hard to be entertaining, they lose their ability to teach. In fact, I've heard anecdotally from lots of teachers that while students perform well on speed and accuracy quizzes built into these keyboarding sites, it doesn't translate to classwork. There, students still struggle to find keys and type fast enough that their brains can think while their fingers move.
KidzType fixed that. It offers not only drills, but games, exercises, and lessons. Plus–this is what really excited me when their email arrived at my computer: KidzType teaches keyboarding one row at a time–home row, QWERTY row, and lower row, followed by symbols and numbers. Most keyboarding sites teach a mixed-up collection of keys that might make sense to an academician, but not a child. KidzType recognizes that their customer is the grade 2-8 student, not the parent or teacher. Additionally–because kids can't learn by drill alone–KidzType provides a great selection of games, including a focus on typing words (rather than letters), typing lessons, typing exercises (24+ graduated exercises to cover all keys in a skills-building approach), typing practice (which includes sentence and paragraph practice), and the fun DanceMat Typing games kids love. It has become a staple in my classes.
When you open KidzType, you'll find a clean, uncluttered screen. It's intuitive to get started, user-friendly, and rigorous in its focus on the basics. There's no rainbow of colors, no distracting goofy characters, not even any noise. When kids click into the site, here's what they see: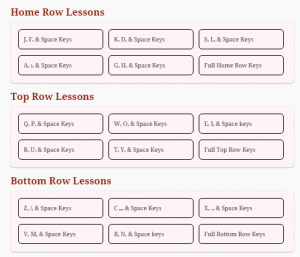 When they select, say, home row, it takes them to a clear, interactive typing exercise, like this: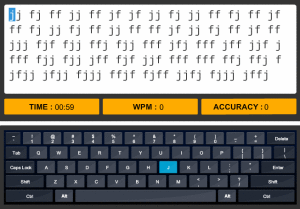 After working through the three letter rows, students move on to:
Shift key
Numbers
Symbols
Typing exercises
Pros
No log-in, no downloads, few distractions, and no fee.
Cons
There is no way to track student progress for the teacher. Because the site is fairly new, I'm hoping this is planned for future updates.
***
KidzType is to keyboarding what nutrients are to a plant: Nothing grows without these basics. After you've used it for 10-15 minutes three times a week, come on back and tell me how fast your students are typing.
---
Jacqui Murray has been teaching K-18 technology for 30 years. She is the editor/author of over a hundred tech ed resources including a K-12 technology curriculum, K-8 keyboard curriculum, K-8 Digital Citizenship curriculum. She is an adjunct professor in tech ed, Master Teacher, webmaster for four blogs, an Amazon Vine Voice, CSTA presentation reviewer, freelance journalist on tech ed topics, contributor to NEA Today, and author of the tech thrillers, To Hunt a Sub and Twenty-four Days. You can find her resources at Structured Learning.