Augmented Reality takes students into bold new worlds where they become part of the learning, not passive viewers. They follow their passion by exploring with their senses. Ask a Tech Teacher sponsor, PleIQ is launching its Kickstarter campaign, offering a revolutionary tool that blends the physical and digital world into one that is irresistible for kids. Curious? Here's an overview: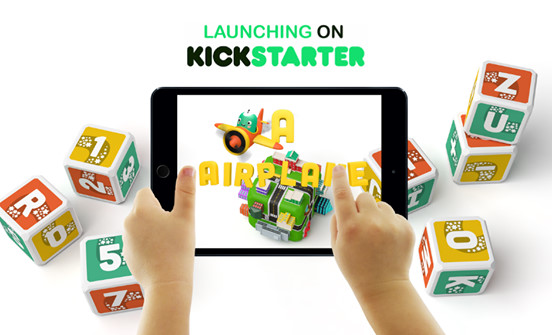 PleIQ (Play-Q) is the best new educational toy that beautifully merges the physical and digital worlds to provide our children with an immersive learning experience. PleIQ is the perfect complement to high-quality classroom instruction—a hands-on, 21st Century, augmented reality toy that appeals to all learning styles.
PleIQ is designed with every early learner in mind. Eight beautifully tangible cubes displaying each letter, number, and a handful of special symbols come to life before your eyes through the accompanying mobile app for smartphones and tablets. Together, the cubes and app provide 48 discovery-based AR learning experiences that naturally evolve and adapt to support each child's unique intelligences. All activities are carefully designed to foster a child's curiosity and creativity.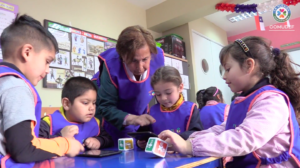 Not only is PleIQ more modern and FUN than traditional educational toys, it is also firmly rooted in educational and developmental research. All learning activities are Common Core and Universal Design for Learning (UDL); any teacher in the US or abroad can experience the next ed-tech frontier of augmented reality in their classrooms. As teachers, you're always looking for resources that will seamlessly integrate with your curriculum and instructional goals, and PleIQ allows you to trust that it will serve your students with their developmental needs in mind. PleIQ can serve English and bilingual Spanish communities equally through literacy, math, and real-world learning experiences. The taxonomy of Marzano and Kendall inspired much of PleIQ's design, while Gardner's Theory of Multiple Intelligences drives the toy's purpose. The toy is organized into 8 dimensions: Linguistic, Logical, Kinesthetic, Visual, Musical, Naturalist, Intrapersonal, and Interpersonal activities.
We know that teachers are often asked to promote technology use in the classroom to prepare students for the digital world around them. PleIQ makes it easy to teach and reinforce skills through a variety of learning styles while appealing to all intelligences. You do not have to sacrifice crucial kinesthetic learning experiences that our young learners need in order to give them a 21st Century education.
Teachers and parents both have access to progress monitoring data that shows exactly where your children are growing. Individual and group trends can be analyzed in real-time through automatically generated reports. These valuable insights allow for a more personalized learning to take place within the toy, in the classroom, and at home! PleIQ also promotes responsible use of smart devices in the hands of little ones, limiting screen time on the app to 45 minutes daily. Parents and teachers can best serve each child needs and strengths through play.
PleIQ is the first product from the ed-tech startup, PleIQ Smart Toys, based in Chile. A team of over 30 pedagogical, engineering, and design professionals researched, developed, and tested this toy for two years to bring you the best possible immersive learning product. This toy has been awarded as the best innovation in ed-tech in Latin America by the London-based organization Bett. PleIQ launched in Chile in 2017 and has been used by more than 5,000 schools across 3 countries in Latin America. Chile, Mexico, and Argentina have all seen excellent results. Check out this school testimony from Chile! https://youtu.be/Uc-iK_CGm2I
For the very first time, PleIQ will be available in the US and Canada! Through your support on Kickstarter, this startup promises to deliver this high-quality, educational, and (let's be honest) super cool toy by Christmas to early backers only! If you, your co-teachers, or parent friends want to join this opportunity and get the special VIP discount, just sign up here:  go.pleiq.com  or join the Facebook group (https://www.facebook.com/groups/438700866779123/)  for instant updates. Here's the link to their Facebook page.
More on AR 
The Wild and Amazing World of Augmented Reality
Augmented Reality Resources
3 Augmented Reality Apps to Take Your Lessons to the Next Level
---
Jacqui Murray has been teaching K-18 technology for 30 years. She is the editor/author of over a hundred tech ed resources including a K-12 technology curriculum, K-8 keyboard curriculum, K-8 Digital Citizenship curriculum. She is an adjunct professor in tech ed, Master Teacher, webmaster for four blogs, an Amazon Vine Voice, CSTA presentation reviewer, freelance journalist on tech ed topics, contributor to NEA Today, and author of the tech thrillers, To Hunt a Sub and Twenty-four Days. You can find her resources at Structured Learning.