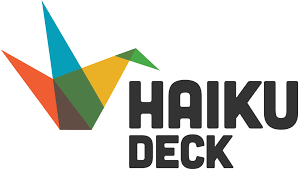 If you're like me–and 20% of US schools–when you think of 'online slideshow tool', you think of Haiku Deck. And now, your favorite tool just got better. Haiku Deck Classroom offers an easy way for educators to add and manage student accounts, integrate with Google Classroom and other CMS systems, sign in through Google, share projects to a classroom gallery, and more.  Haiku Deck Classroom makes all the features of Haiku Deck Pro available to educators and students, including unlimited presentation creation, advanced privacy settings, offline viewing and printing, and YouTube video embedding. The subscription applies to use of Haiku Deck's award-winning web, iPad, and iPhone apps.
Additional features include:
Classroom Management Dashboard:

Educators can easily add and remove students from their classroom by email address.

Mobile and Web-Based:

Educators and students can create or view Haiku Decks on the web, iPad, or iPhone.

Google Classroom integration:

Educators can import users from and share decks directly to Google Classroom.

Google Sign-In:

Haiku Deck now supports Google sign-in, for students without an email address.

Classroom Gallery:

Students can share Haiku Decks to a classroom gallery, making it easy for teachers to review and evaluate work.

Share to CMS:

Students can easily share their Haiku Decks to Classroom Management Systems like Schoology, Edmodo, and more.  
Here's more about the benefits of Haiku Deck Classroom:

For more information, visit the Haiku Deck Classroom website.
–Haiku Deck is an Ask a Tech Teacher sponsor