Category:
Digital Citizenship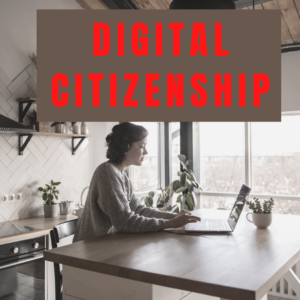 Thanks to the pervasiveness of easy-to-use technology and the accessibility of the internet, teachers are no longer lecturing from a dais as the purveyor of knowledge. Now, students are expected to take ownership of their education, participate actively in the learning process, and transfer knowledge learned in the classroom to their lives.
In days past, technology was used to find information (via the internet) and display it (often via PowerPoint). No longer.  Now, if you ask a fifth grade student to write a report on space exploration, here's how s/he will proceed:
Understand 'Digital Citizenship'
Before the engines of research can start, every student must understand what it means to be a citizen of the world wide web. Why? Most inquiry includes a foray into the unknown vastness of the www. Students learn early (I start kindergartners with an age-appropriate introduction) how to thrive in that virtual world. It is a pleasant surprise that digital citizenship has much the same rules as their home town:
Don't talk to bad guys, look both ways before crossing the (virtual) street, don't go places you know nothing about, play fair, pick carefully who you trust, don't get distracted by bling, and sometimes stop everything and take a nap.
In internet-speak, students learn to follow good netiquette, not to plagiarize the work of others, avoid scams, stay on the website they choose, not to be a cyber-bully, and avoid the virtual 'bad guys'. Current best practices are not to hide students from any of these, but to teach them how to manage these experiences.