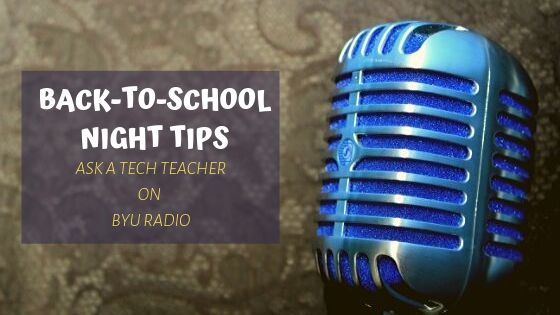 Come Join me on BYU Radio,  Sirius XM 143
Thursday, August 1st at 5:00 and 7:00 a.m. PT

as we discuss Back to School Tips!

BYUradio is available locally in Utah on 107.9 FM 89.1 HD2 FM and on.

---
---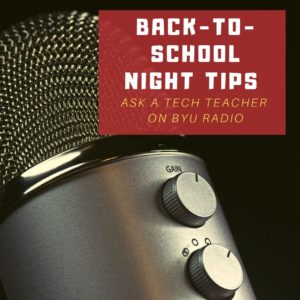 A general transcript:
What would you say the purpose of Back-to-School Night is? 
BTS Night is traditionally a chance for all stakeholders in the child's education journey to get to know each other. It's the first step to establishing the parent-teacher partnership. It's a way of easing everyone back into the education journey after a long summer break and is arguably one of the most impactful days in the school year.
Teachers demonstrate their teaching style. Make no mistake: Teachers are equal parts entertainers and educators. The days of standing in front of a room filled with silent, staring students are gone. Now, teachers have to make learning, fun, enticing, joyful. 
Parents want to meet you.
A caution for teachers: Families are changing:
Life is faster
Economic demands are greater
Families might not be as stable as they used to be
Accept this. Don't bemoan that parents can't volunteer, can't make parent meetings, don't check on their child. Figure out how to weave those realities into the bigger story so the child thrives.
What should parents be expecting from the experience? What should teachers expect? 
As a teacher, I find it best not to have expectations so let's start with parents:
Parents:
Expect to be welcomed
Expect the teacher to introduce her/himself and their pedagogy
Expect them to demonstrate their teaching style
Expect a preview of the upcoming school year.
Expect to find out how you can be involved to the extent you want to be.
Don't expect the teacher to do the impossible
Don't expect teachers to leave just because the hour event is over
How can teachers get parents excited for Back-to-School Night, even before the event? 
Here are some of the ideas I've tried in the past that have worked nicely:
A flier—bright, visual, exciting. Not just an email. The invite should match the way you teach—with energy, creativity, color.
Involve kids in the event so they talk to their parents about their part.
Have kids join parents so they can show their parents around the room.
Give parents homework (like a PowerPoint of the essentials or a scavenger hunt.
Create a scavenger hunt of class stuff (like the gradebook, the class website, the LMS, the classroom management system) and have a spot where parents who find that scavenge leave their name. Invite kids to help their parents. Encourage them to show each other how to do things. All parents who make it through the scavenger hunt get—something. Maybe bonus points for their child. Whatever fits your classroom group.
What's the most important information teachers need to give to parents at Back-to-School Night? 
Sign-up sheets for class activities, helpers, that sort. Whatever it is you need volunteers for.
The answers to questions. Keep track of all parent questions. Put them in a document and share with parents. Use the productivity tool students will use in the class (like Google Docs or Microsoft Excel) to share all answers with parents. Encourage parents to add more questions to this collaborative document and then be sure to answer them!
That you listen. You aren't a mind reader. At BTS Night, Let parents talk. It's OK to say you don't know the answer and will get back to them.
Probably the most important: You are comfortable sitting in a hard chair and reflecting on events. You aren't afraid to talk to parents, even about difficult topics. You welcome suggestions, are open to change, and are happy to engage in conversations about their child's educational journey. Where theory meets reality may not be pretty. Don't run away. Don't hide behind someone else's rules. Take ownership.
What can teachers do to give parents the important information they need, while keeping them engaged? (No one wants to sit through a boring power point!) 
Creating a PP filled with information is not a bad idea but deliver it digitally, to be consumed by parents at their leisure. Use this to get parents to visit the class website/LMS. Show parents how to check into the class gradebook (if that's digital), website, blog, LMS, whatever you have to manage the class.
During BTS night, don't review it step by step. Expect parents did their homework, know what's there, and take questions about it. A good way to review this information in an engaging way is to have students present it, in person or a video, or make it a quiz, or have a ten-minute BTS night scavenger hunt, in teams. That has the added benefit of parents getting to know each other.
What are some other tips we can use for Back-to-School Night? 
During BTS Night, use the tools students will use during the school year. For example, open the class with a classroom management system that evaluates class noise (like Bouncy Balls). Record the evening with a recording tool students will use (like Chromebook's Online Voice Recorder or the app Talk)
Record the event, either audio or video, and share that with parents afterwards. That way, they don't have to take notes.
Invite a parent who can't make it to join via Google Hangouts (or another). Show parents that you're doing that so they realize it is an option for their parent conferences, etc.
Have digital sign-ups ready for events that need parent volunteers. Make this accessible online so parents who can't do it that evening or have to leave early can access it at their leisure.
How can teachers connect with parents and gain their trust? 
Listen to them—and don't judge.
Treat them respectfully, as they will their children.
Answer questions. Adapt to their unique needs (like can't attend evening events)
What can parents do to begin the year with a good parent-teacher partnership? What can all of us do to make sure parents and teachers on the same team, helping each other to support and teach our kids? 
Ask questions
Participate in the education journey. Don't assume it's the school's responsibility unless it is.
Be flexible
Support the teacher
Meet with the teacher if you feel things are off track—virtually or in person
What can teachers do if they don't have time to get to all the parents' questions at Back-to-School Night? 
Let's stipulate you will never have enough time to answer all questions. To make that your goal is unrealistic. Your goal, instead, is to curate questions, give parents time to reflect and ask them at their leisure
A couple ways you can share this Q&A with all parents.
As you take questions, record them all—some way that you can transfer to a document. Share a document with parents (using the digital tool students will use in their classes) with all the Q&A you answered. Encourage parents to add new questions to this shared document and answer those.
Encourage parents to email you or text you with questions (whichever works better for your lifestyle). Add those to the list you created.
Allow parents to call you but give them a Google Voice number rather than your personal one. These are free, work just like your phone number but you will use them only for parents.
Technology is becoming a mainstream part of kids' education, just like it already is in their home lives. What concerns do parents have with how their kids are using technology in school?  How can teachers communicate with parents about how technology is used in the classroom? 
This is a biggie. Parents do worry about everything from screen time to students engaging with strangers on class-assigned apps (like Scratch) to staying safe online to cyberbullying (BTW, I got these examples from my parents). This question would take a full show all by itself and the answer is heavily dependent upon each school. Ask questions like the qualifications of the teachers regarding technology, when are kids taught about digital citizenship, how tech-savvy are the teachers, how meaningful is student time on digital devices, what happens if you don't have Internet at home, where kids can get help for a tech skill they don't understand (often, it's not their class teacher), what to do about skills required for online testing, what is the school's AUP, how does the school protect privacy, and can students and teachers be friends on social media. Each school will answer these differently but each is critical to how students will thrive
Do you have any other tips for how parents and teachers can get on the same team and have a great Back-to-School Night that will set them up for success throughout the year? 
The best advice I can give you is be your child's education advocate. It may be painful, time-consuming, and complicated. It all starts at BTS night. It's OK though because most teachers have been in your shoes.
---
Jacqui Murray has been teaching K-18 technology for 30 years. She is the editor/author of over a hundred tech ed resources including a K-12 technology curriculum, K-8 keyboard curriculum, K-8 Digital Citizenship curriculum. She is an adjunct professor in tech ed, Master Teacher, webmaster for four blogs, an Amazon Vine Voice, CSTA presentation reviewer, freelance journalist on tech ed topics, contributor to NEA Today, and author of the tech thrillers, To Hunt a Sub and Twenty-four Days. You can find her resources at Structured Learning.