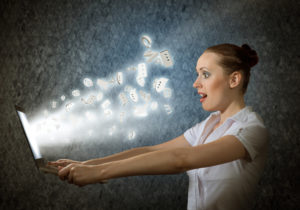 For a decade, when I thought of desktop publishing, I turned to Microsoft Publisher. I loved its flexibility, adaptability, and ease of use both for classroom projects and home. But then I moved on to other alternatives, like Lucid Press that were more flexible and affordable for educational purposes.
Really, I didn't see a lot of other alternatives until Sara Stringer, from the Ask a Tech Teacher, came up with this great article about desktop publishing options. Some of these–like Word–have changed so much over the years that they are now a provide reasonable alternatives to laying out an attractive professional design in a program everyone is familiar with:
Technology advanced drastically in the past few years, allowing people to create different products with the aid of a computer. One of the most popular products that were drastically improved by the presence of technology is printed materials, which were commercially printed from a single file that was created using desktop publishing software. Printing digital files can be performed in a short period of time, with the finished product being bound with the help of a strong type of glue, which securely holds the pages together.
With the prevalence of digital computers, tablets, and smartphones nowadays, people could easily create their own digital files with the help of software programs. Publishers would have total control of the things that they wanted to do, and their ideas could produce high-end digital published materials such as brochures, menus, books, and magazines, among others. It is important to find out the best software program that will be used by a desktop publisher. Because there are many available software programs in the market today, the preference among publishers varies. The following software programs are the most common desktop publishing tools used by amateurs and professionals:
Adobe Photoshop, InDesign, and Illustrator
Adobe Photoshop, InDesign, and Illustrator are the top three desktop publishing programs for creators, and they are also one of the industry standards when it comes to the creation of digitally published materials. These programs provide freedom to the publishers how they would create their published material, and they can do everything inside the workspace, like drawing images and shapes, manipulating images, and putting digital text. There are minimal differences between these programs, but their importance in the industry is highly regarded. Adobe InDesign and Illustrator are used by those who wanted to create their own logo or image. The best thing about Adobe Illustrator is the program's use of vector imaging, which prevents the pixelation of an image. Adobe Photoshop, on the other hand, uses raster imaging, which makes the image blurry when scaled up or scaled down. However, this program is very powerful and digital publishers are still using it because of the rich colors present in the program and the photo manipulation tools that it offers. Using the three programs perfectly would give desktop publishers a chance to create a high-end digital printed material that is on par with professional work.
Microsoft Powerpoint, Publisher, and Word
The three software programs from Microsoft are among the most recognizable desktop publishing programs in the world today, partly because of the prevalence of Windows computers in Asia, Africa, the Americas, and Europe. Most schools are also teaching their students the basic on using these programs, and most school projects are being created using these software programs. At an early age, people are already trained on how to create documents using Microsoft Word. The program is easy to use and it is user-friendly. It mimics how the typewriters work in the past. It is also used for drafting written works, and it has a wide range of compatibility. Microsoft Publisher is used by those who wanted to create magazines, newspapers, and other similar outputs. It is also user-friendly and has a lot of tools that are advantageous to publishers. Microsoft Powerpoint, on the other hand, focuses more on interactivity, providing animation, and it also has the capability to display images, video, and sound.
LibreOffice Impress and Writer
LibreOffice is the freeware counterpart to the Microsoft Office programs. It offers the same features found on Microsoft Office programs, and it can be downloaded straight from the Internet. LibreOffice programs are used heavily by desktop publishers who do not want to purchase the expensive software programs from Microsoft.
CorelDraw
CorelDraw is a photo manipulation software program that is preferred by desktop publishers who are working extensively on images. It has the same capabilities such as Adobe Photoshop, and it also offers exclusive features that are not found anywhere else.
5. Apple Pages
Apple Pages is Apple's counterpart to the successful Microsoft Office suite. It is the standard among those who are using Macintosh computers and laptops, and it can also be downloaded from Apple's App Store. Desktop publishers who opt to use Apple Pages are saying that it is not prone to crashes or file corruption, making their file safe.
–Sara Stringer is a former medical and surgical assistant who now does freelance business consulting. She enjoys blogging and helping others. In her spare time (translation: the time spent doing what's most important), she enjoys soaking up the sunshine with her husband and two kids.
More DTP
13 Ways to Use Canva in Your Classroom
Innovative Ways to Encourage Writing
7 Innovative Writing Methods for Students
---
Jacqui Murray has been teaching K-18 technology for 30 years. She is the editor/author of over a hundred tech ed resources including a K-12 technology curriculum, K-8 keyboard curriculum, K-8 Digital Citizenship curriculum. She is an adjunct professor in tech ed, Master Teacher, webmaster for four blogs, an Amazon Vine Voice, CSTA presentation reviewer, freelance journalist on tech ed topics, contributor to NEA Today, and author of the tech thrillers, To Hunt a Sub and Twenty-four Days. You can find her resources at Structured Learning.