Author:
Jacqui
Jacqui Murray has been teaching K-18 technology for 30 years. She is the editor/author of over a hundred tech ed resources including a K-12 technology curriculum, K-8 keyboard curriculum, K-8 Digital Citizenship curriculum. She is an adjunct professor in tech ed, Master Teacher, webmaster for four blogs, an Amazon Vine Voice, CSTA presentation reviewer, freelance journalist on tech ed topics, contributor to NEA Today, and author of the tech thrillers, To Hunt a Sub and Twenty-four Days. You can find her resources at Structured Learning.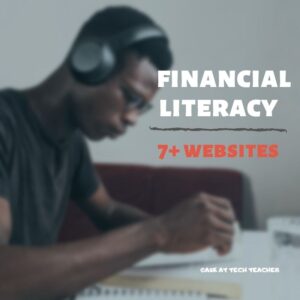 When kids read that America's $30 trillion+ debt is accepted by many experts as 'business as usual', I wonder how that news will affect their future personal finance decisions. Do they understand the consequences of unbalanced budgets? The quandary of infinite wants vs. finite dollars? Or do they think money grows on some fiscal tree that always blooms? The good news is: Half of the nation's schools require a financial literacy course. The bad new is: Only half require a financial literacy course.
I've noticed news stories about schools adding financial literacy to the High School course load (yay!). If your school doesn't teach personal economics but would like to, there are many online sites that address the topic as mini-lessons. Some are narrative; others games. Here are some I like. See if one suits you:
Banzai is a personal finance curriculum that teaches high school and middle school students how to prioritize spending decisions through real-life scenarios and choose-your-own adventure (kind of) role playing. Students start the course with a pre-test to determine a baseline for their financial literacy. They then engage in 32 life-based interactive scenarios covering everything from balancing a budget to adjusting for unexpected bills like car trouble or health problems. Once they've completed these exercises, they pretend that they have just graduated from high school, have a job, and must save $2,000 to start college. They are constantly tempted to mis-spend their limited income and then must face the consequences of those actions, basing decisions on what they learned in the 32 scenarios. Along the way, students juggle rent, gas, groceries, taxes, car payments, and life's ever-present emergencies. At the end, they take a post-test to measure improvement in their financial literacy.
The program is free, takes about eight hours (depending upon the student), and can include printed materials as well as digital.