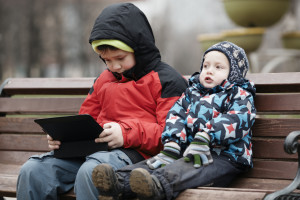 Reading is defined as "the action or skill of absorbing written or printed matter silently or aloud." Sounds dry, maybe even boring, but once a child learns to read, they get much more than an understanding of words, sentences, paragraphs, grammar, syntax, and vocabulary. They get an escape from reality, exercise for their brains, a closeness to like-minded souls, answers to problems–and reading can even predict success in school. It alleviates boredom in the bits of free time that pop up between soccer and dinner and it can be done alone or in a group.
"Books are the quietest and most constant of friends…"
― Charles William Eliot
Teachers and parents know all this and still, the Literacy Company reports that most teachers in classes of twenty+ students spend only five minutes a day reading, and 46% of American adults cannot understand the label on their prescription medicine. Not a surprise, Statistic Brain says 80% of adults did not buy a single book in the past year (Pew reports it as 77%).
I am constantly on the hunt for good tech reading tools. There are hundreds–thousands–of them, but I'm picky. Here's what I look for:
Does it have advertising? If so, it needs to be nominal and G-rated. I don't want ads to be overbearing or distracting. Worse is if they are inappropriate. I've seen great websites and online tools ruined by objectionable ads.
Is it intuitive? Students want to be able to figure the program out without being taught. An intuitive website and/or app 1) has an easy-to-understand start-up screen that clearly identifies how to use the tool, 2) the process for using the tool is similar to others the students is familiar with, and 3) the student can independently launch and operate the web tool or app without requiring an adult.
is it user-friendly? Does its design and layout make students want to accomplish the goals of the program? Are students engaged in the activity,motivated to use the web tool? Is it functional? Is it visually stimulating? Does it require only a nominal amount of reading?
Does the web tool differentiate for types of students and their unique needs? Sure, there are lots of good web tools appropriate for a standard classification of student. What I want is the web tool that can adapt to varying needs.
Is the tool challenging? Does it require sufficient critical thinking to keep the student engaged or do they get bored quickly?
Is the web tool compatible with most browsers, most computers? I don't want it so old it won't play well with the type of computer commonly used by students. I also don't want it so specialized that students must buy extra equipment to use it.
Is the web tool free? That's preferable. There are lots of good web tools that are free to a certain point and charge a fee after that. Depending upon what 'point' that kicks in, I'm OK with that
Does the web tool encourage higher-order thinking–creativity, evaluation, critical thinking, problem solving?
Is the web tool or app error-free? This means not only that it's free of spelling and grammar errors, but that it doesn't freeze, stall, shut down, or crash.
Does the web tool have educational applications? When students are at school, I want to focus on academic endeavors, leaving those more focused on 'play' to the home environment. So many fun programs are also educational, this isn't a high hurdle.
Keeping this requirements in mind, I've located five tech tools that inspire reading. This includes an app to develop vocabulary (Spelling City), three to build overarching reading skills (Starfall, Flocabulary, and Teach Your Monster to Read) and a great game-based program to test out new skills (the Sports Network).
Free (with fee for app upgrades)

Web-based, iOS
Spelling City is a word study website or mobile app that uses popular games to teach vocabulary. Students ages 2nd grade-high school select a native list or one entered by their teacher (or created by themselves), and then play one of the ten activities that reinforce knowledge. The wide variety of games and assessments allow for differentiation in learning styles and is helpful for children who do better with alternative methods. The site also has an audio component that reads to those who have difficulty comprehending words and spoken language.
Spelling City is a leader in word study skills for students and should be on every teacher's Top Ten list of educational sites. The free web version includes lots of top-notch activities, but is limited on mobile devices. There is a premium version that allows teachers to track student activity, see who's completed what, assign homework, and give vocabulary tests.
Free
Web-based
Flocabulary is an online library of over 600 educational hip-hop songs and videos for grades K-12. Included are quizzes, printable formative and summative assessments, and answer keys to help teachers track student vocabulary progress. Learning is supported not only with the toe-tapping lyrics, but lesson plans and games.
Over 35,000 schools use Flocabulary to engage and inspire students. It's multisensory approach to using music, rhythm and rhyme is supported by a profound body of academic research. Briefly: Music facilitates memorization and recall of academic content, while the use of hip-hop and other culturally-relevant media increases student engagement. Flocabulary is a useful tool in a differentiated toolkit for teaching vocabulary.
Free (with fee for premium)

Web-based, iOS
Starfall has long been the go-to website for kindergarten-third grade beginning readers. It motivates children to read in an atmosphere of imagination and play, including a wide variety of grade-appropriate approaches that make reading fun. The site is easy to navigate, engaging, with a solid mix of reading, sounds, color, and animation.
The web-based site includes all the traditional activities, but the mobile version is much more limited. It takes multiple apps and premium features to duplicate what's offered for free on the website.
Free
Web-based, iOS
Teach Your Monster to Read is a free, award-winning series of games that teach early readers or reading-challenged students phonics in a skills-oriented environment. Students create a monster and then teach him how to read so he can find his way home. This includes learning letter and vowel sounds, blends, segments, phonemes, graphemes, and eventually sentences. Reading skills are used in a series of adventures that incrementally move the monster closer to his goal. Student progress is tracked on a colorful map that shows what's completed and where they must go next. Through class accounts, the teacher can monitor student progress and see where individuals might require assistance.
Play can take days or weeks, and when completed, can be restarted to reinforce learning. Overall, this is a fun approach to what are historically sticky topics to would-be readers.
Free
Web-based
Students in grades 7-12 simulate the fast-paced environment of a cable news sports network while practicing their reading skills. Taking on the role of managing director,  students explore the details of a thriving workplace from how to deal with peers to using contemporary technology. They come to know the quirks of colleagues, listen to jokes and small talk, and gather the volumes of information available in any workplace. The action of assessing what they hear and read, and then evaluating/understanding the information shared in conversation, hones their skills at close reading, finding evidence, and building arguments–as would be done when reading informational text and succeeding at the 8th grade Common Core Standards for reading informational texts. Students become so engrossed in the activities that they don't realize they are reading complex materials.
There are lots of game-based reading skills programs, but this one stands out as an authentic, engaging environment, fueled by the reality that successful reading skills are at the core of so much of life's successes. Like a career.
There you have it–five reading tools that cover everything from basics to implementation. These five belong in your reading curriculum as student-guided, self-paced learning tools that students will choose as often for entertainment as learning.
---
Jacqui Murray has been teaching K-18 technology for 30 years. She is the editor/author of over a hundred tech ed resources including a K-12 technology curriculum, K-8 keyboard curriculum, K-8 Digital Citizenship curriculum. She is an adjunct professor in tech ed, Master Teacher, webmaster for four blogs, an Amazon Vine Voice, CSTA presentation reviewer, freelance journalist on tech ed topics, contributor to NEA Today, and author of the tech thrillers, To Hunt a Sub and Twenty-four Days. You can find her resources at Structured Learning.