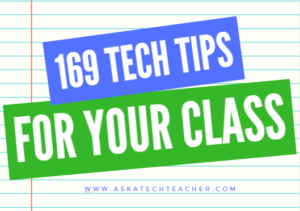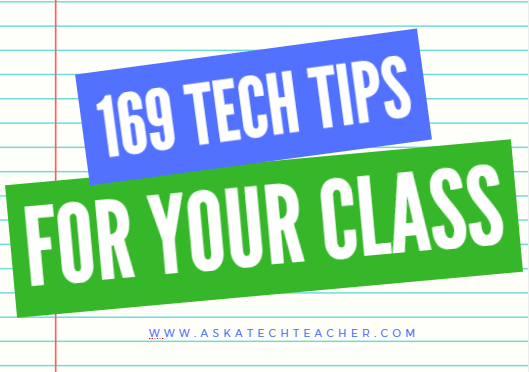 In these 169 tech-centric situations, you get an overview of pedagogy—the tech topics most important to your teaching—as well as practical strategies to address most classroom tech situations, how to scaffold these to learning, and where they provide the subtext to daily tech-infused education.
Today's tip: #127–12 Tips on Hard-to-teach Classes
Category: Differentiation
Sub-category: Teaching, Classroom management, Pedagogy
Here are twelve ideas:
Teach programming with Scratch, Alice, robotics, and Minecraft. These are like the games students love and teach important to Common Core standards as well as the demands of life.
Flip the classroom. Provide homework via a screencast or a Google Hangout and then do a project using the skill during class time. 
Monitor student involvement and understanding with backchannels. Keep the feedback displayed throughout the lesson on the class screen so you and students can track learning.
Use domain-specific language as you teach. Students will feel like they're insiders, comfortably understanding geek speak.
Use tech tools for every activity possible. Show students tech is part of daily activities and teaching.
Expect students to be risk takers. Don't rush in to solve problems. Let them know you respect their cerebral skills and have faith they will find a solution.
If a student doesn't like a project, let them come up with their own–as long as it satisfies the goals of the exercise.
In fact, any chance you have, differentiate instruction. Be flexible, open-minded, and adventurous.
Collaborate with other teachers on cross-curricular planners that involve technology.
Consider a BYOD approach in your classes so students can use the devices they have easy access to and are comfortable with (if your school IT folks and infrastructure support this approach).
Assess knowledge, but remember: Assessment isn't static—nor is it 'bad'. Be creative.
Gamify class with online (free) simulations like Mission US, iCivics, and History Mystery.
Sign up for a new tip each week or buy the entire 169 Real-world Ways to Put Tech into Your Classroom.
---
Jacqui Murray has been teaching K-18 technology for 30 years. She is the editor/author of over a hundred tech ed resources including a K-12 technology curriculum, K-8 keyboard curriculum, K-8 Digital Citizenship curriculum. She is an adjunct professor in tech ed, Master Teacher, webmaster for four blogs, an Amazon Vine Voice, CSTA presentation reviewer, freelance journalist on tech ed topics, contributor to NEA Today, and author of the tech thrillers, To Hunt a Sub and Twenty-four Days. You can find her resources at Structured Learning.