Tagged With:
169 tech tips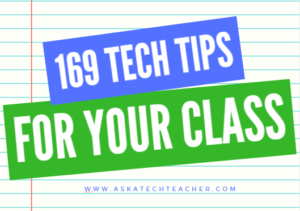 In these 169 tech-centric situations, you get an overview of pedagogy—the tech topics most important to your teaching—as well as practical strategies to address most classroom tech situations, how to scaffold these to learning, and where they provide the subtext to daily tech-infused education.
Today's tip: #80–17 Ways to Add Tech without Adding Time
Category: CLASSROOM MANAGEMENT
Sub-category: Teaching, Writing
Let's start with seven ways to blend technology into your everyday teaching:
Include digital ebooks in your class library.
Include online libraries with student resources.
Expect digital class presentations to include video, audio, music, or a mixture of digital tools.
Encourage students to tape class presentations to replay later and/or study from.
Allow students to join the class virtually–through Skype or Google Hangouts–in emergencies.
Make research tools like dictionaries and thesauri accessible from all digital devices.
Empower students to solve common tech problems.
Then, add these next ten to redefine your classroom: