Ask a Tech Teacher contributor Nicole McCray, has some thoughts on music and education. I think you'll enjoy them: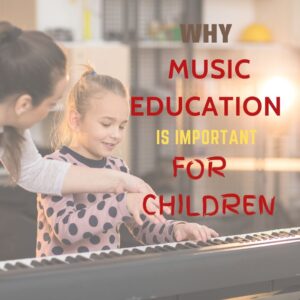 There are many schools that undermine the importance of music in schools. Yet, many benefits stem from a musical education. Musical training enriches students, and music plays an integral role in culture and overall development, spilling into other areas within our lives.
Music is always present at important events, such as celebrations, worship, and ceremonies. In addition, education in music is a way to take student learning to new levels and higher performance. Because of this, music education should be an essential aspect of children's education. 
Musical learning presents multiple advantages for students, and there are even studies to back them up. Read on to see why music education needs to play a vital role in children throughout their educational development.
MUSIC EDUCATION & STUDENT LEARNING
Students who study music practice consistently, many times committing the musical piece to memory. The activation of this brain power helps with recall across other academics for students and when using music as a mechanism to help them remember. 
Any student who is having difficulty learning something can be aided by ng the concept into a song. The music pattern allows them to recall the words. Also, the music lyrics, or words, help with language development, stimulating the brain, exposing students to massive vocabulary in short periods. Thus, music can provide for memory recall and language development by its impact on the brain.
MUSIC EDUCATION & YOUR BRAIN
Music has a complex structure, and your brain has to work hard to make sense of it. Therefore, music education for students provides an opportunity for advanced academics, from a study done at Case Western Reserve University. Music programs in schools have been shown to have higher graduation rates, attendance rates, and students who are more likely to excel in their studies.
SOCIAL ADVANTAGES FROM MUSIC
Children who are exposed to music also gain social advantages. They develop listening skills from playing and singing together and are taught how to identify dynamics for volume changes, which keeps them consistently engaged. In addition, studying music requires collaboration and working together as a team.
Coming together for a common goal helps children value others, create friendships and connections over the love of music, and support one another's abilities. Furthermore, since music evokes emotion, it can also assist children with the social developments in recognizing moods in others. 
Another benefit that music education provides is being able to experience and learn about other cultures through various genres and musical styles. Diversity and inclusion are crucial for social wellbeing, and students can learn through music about different cultures and learn to respect and accept the differences in others.
MUSIC FOSTERS CREATIVITY AND CONFIDENCE
Creative thinking is always encouraged when it comes to music.  Songwriters have to tap into thinking "outside the box" to develop and come up with something new. Because music is an art form, it is objective and open to imagination. Many music teachers love to see when students can take something and develop their own ideas about it and make it more unique. Music education allows for those creative juices to flow without any judgment.
Risk-taking is not something many people relate to music, but there is, in fact, a great sense of achievement that comes from mastering a piece of music. Performing music can bring about fear or anxiety in children, but preparing and working to learn helps them deal with these fears, allowing them to reach their potential. In addition, building confidence is very helpful in many aspects of life.
When students take on a challenging composition, put it into practice, and work hard to learn it, they ultimately achieve their goal of playing it through. When they accomplish this, it provides the student with a sense of pride, and the confidence to tackle the next difficult piece of music.  
MUSIC TEACHES STUDENTS DISCIPLINE
If a student takes Music To Your Home instrument lessons, the lessons provide the student with structure and routine. Students have to create time to practice playing their instruments outside of classes to work on their musical tasks adequately. In doing so, students are required to learn time management and organizational skills. The discipline comes with their ability to do so and work hard to achieve their goals. 
MORE THAN MUSIC
Learning music provides children with the ability to take something on independently and learn to improve. Students who study music learn with determination, practice, and positivity that success is possible. 
Every child desires to learn and be great at something, developing that sense of achievement and boosting their confidence. Music education opens the door to that outlet from an early age and a higher level of engagement throughout their school years.
–Before Nicole discovered her passion for teaching students how to play their first instrument, she was pinching pennies in her 20s while singing at dive bars across the country. Nowadays, she spends her days contributing to music blogs, parenting forums, and education websites when she's not providing private music lessons. She finds joy in sharing her insight with musicians, fellow teachers, and parents of musicians-in-training!
---
Jacqui Murray has been teaching K-18 technology for 30 years. She is the editor/author of over a hundred tech ed resources including a K-12 technology curriculum, K-8 keyboard curriculum, K-8 Digital Citizenship curriculum. She is an adjunct professor in tech ed, Master Teacher, webmaster for four blogs, an Amazon Vine Voice, freelance journalist on tech ed topics, contributor to NEA Today, and author of the tech thrillers, To Hunt a Sub and Twenty-four Days. You can find her resources at Structured Learning.