Working on a school project could be fun if you're making it together with your kid. If they need to create footage to tell a story of your family. One of our Ask a Tech Teacher crew has some tips on how to make it properly
***
What Is A Family Story Video?
A family story video is a moving picture that illustrates the complete history of all your ancestors up till your generation. Many schools require their students to sit down with their parents, talk about their ancestral history, and put it all together in a video. It can be an amazing experience for homeschooling parents and their children to talk about their family and what events led them to where they are now.
How To Make A Family Story Video With Your Child?
Making a video with the kid can be tricky, and since it is a school project, you must make sure that you give your 100 percent! Here is a step by step guide that can help you make a spectacular family story video:
Gather Information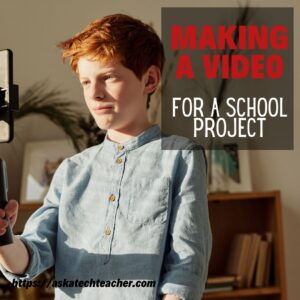 Our lives are extremely fast-paced and busy; we might not know our family really well and, therefore, might not have the required information to give our children. This is why we need to conduct a great deal of research and look for relevant information to your lineage. A good place to start research is 'Google'. Google might have the information even your adults might not.
You can type the name of your great-grandparents and see what pops up on the internet. If there has been a notable person in your family, there may be several articles in their name, and you can use them in your family video.
Make sure to save whatever information you find so that you can use it later. Make notes as you go, as it will help you keep track of the information.
Get the Geographical Location
Your ancestors might have lived in different places over time. You might not originally belong to the place you live in right now. Therefore, keep track of where your ancestors came from and your original homeland. Your adults might have some information they can share, so consider asking them about their origins, and then you can locate them on Google Earth. This will help your child visualize the areas and learn about your origin a little better.
Connect With Your Extended Family
Connecting with your family and learning their history is an enriching experience for every child. Reach out to your extended family members and inquire about the whereabouts of your adults. This will help you connect with the older family members, helping you gather as much information as you need. You can even ask them for pictures and videos of themselves or their parents who fall in your lineage.
Record Interviews, Gather Pictures, and Find Videos
Another method of data collection is recording interviews. Your child, with your help, can come up with a list of questions they should ask, and then you can connect them with your elders to ask them. You can use applications such as Flip to record and save these interviews. Involving your children in these activities will increase their knowledge of technology and help them learn how to use different software.
Now that you have all the material you need to add to your video, it is time for you to piece it together. To do that, you will need the help of specific tools.
What Tools Should You Use For The Video Making
There are lots of applications and tools available for video editing for kids. You can search the internet for the best ones, but here are some that you can use and make the video-making process a lot easier:
Flipgrid

If you want your child to amplify their learning, you can make them join Flipgrid, and here they can communicate with other people and learn the ins and out of video making. There is a lot of space for your child to work on their expression of creativity. Using this platform, they can see how others are using it and try it too. What's more, you can even use this platform to discuss different random ideas, such as what to get your husband this Christmas.
Movavi
While making the video, you will need the help of a video editor, and Movavi is one of the best video editors out there. It allows you to do a lot when it comes to video editing. For instance, if you want to remove background from videos without green screen, you can easily utilize this tool. Movavi also has other useful tools that can come in handy when editing your video. The best thing about t this application is that you can use this application on your mobile phone. You don't have to get through the hassle of opening your laptop each time you want to edit. More importantly, children are most likely to know their way around a mobile application rather than a tool on your computer.
Google Slides
You may want to add stop motion animations in your videos. For that, this application is the best fit. It is super easy to use and can help you add presentation slides to your video. Oversee what they are doing and help them wherever need be. Otherwise, the application is super easy to use for children.
Make it a fun experience for you and your child as both of you can learn a lot. It may also serve as a great way to spend some quality time together, and you'll be able to get to know your roots. Needless to say, making a family video is essential for the identity of your child!
#storytelling #digitalstorytelling #familystory @flipgrid @movavi #videoediting
Here's the sign-up link if the image above doesn't work:
---
Jacqui Murray has been teaching K-18 technology for 30 years. She is the editor/author of over a hundred tech ed resources including a K-12 technology curriculum, K-8 keyboard curriculum, K-8 Digital Citizenship curriculum. She is an adjunct professor in tech ed, Master Teacher, webmaster for four blogs, an Amazon Vine Voice, CSTA presentation reviewer, freelance journalist on tech ed topics, and author of the tech thrillers, To Hunt a Sub and Twenty-four Days. You can find her resources at Structured Learning.