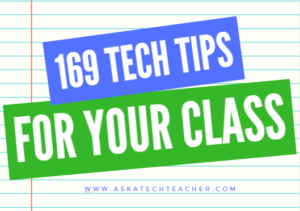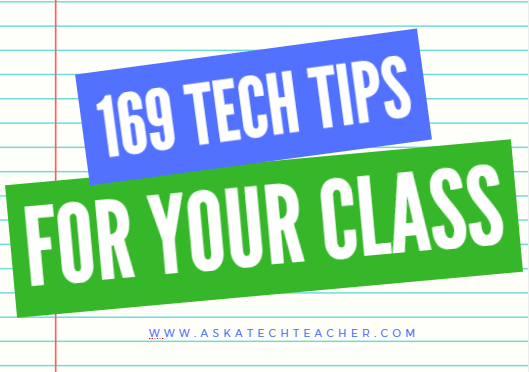 In these 169 tech-centric situations, you get an overview of pedagogy—the tech topics most important to your teaching—as well as practical strategies to address most classroom tech situations, how to scaffold these to learning, and where they provide the subtext to daily tech-infused education.
Today's tip: What is Digital Literacy?
Category: Pedagogy
'Digital literacy' is one of those buzz words floated by experts as being granular to 21st-century students. It's everywhere, on everyone's tongue, but figuring out what it means can be daunting. 'Literacy' is simple: the ability to read and write–so 'digital literacy' should be achieving those goals digitally.
Sounds simple. The difficult is in the implementation. Here are the sixteen transformative tools, activities, and/or knowledge bases digitally-literate students should be comfortable using:
annotation tool
backchannel device
class internet start page
class website or blog
cloud computing
digital citizenship
digital class calendar
digital databases
digital devices–such as laptops, iPads, Chromebooks, or desktops, for daily use
online information
sharing digitally to build knowledge
social media
student digital portfolios–to curate and collect work
email–or another method of communicating quickly outside classtime (such as messaging or Twitter)
virtual collaboration
vocabulary tool–to quickly decode words students don't understand
For more detail on the tools, activities, and knowledge bases above—as well as the general topic of digital literacy—visit "Digital Literacy—What is it?" on Ask a Tech Teacher.
More on Digital Literacy:
Sign up for a new tip each week or buy the entire 169 Real-world Ways to Put Tech into Your Classroom.
What's your favorite tech tip in your classroom? Share it in the comments below.
Copyright ©2022 worddreams.wordpress.com – All rights reserved.
---
Jacqui Murray has been teaching K-18 technology for 30 years. She is the editor/author of over a hundred tech ed resources including a K-12 technology curriculum, K-8 keyboard curriculum, K-8 Digital Citizenship curriculum. She is an adjunct professor in tech ed, Master Teacher, webmaster for four blogs, an Amazon Vine Voice, CSTA presentation reviewer, freelance journalist on tech ed topics, and author of the tech thrillers, To Hunt a Sub and Twenty-four Days. You can find her resources at Structured Learning.