Tagged With:
STEM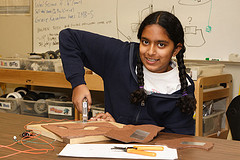 Eduporium's Andy Larmand is the newest contributor to Ask a Tech Teacher. He graduated from Suffolk University with a Bachelor's degree in Print Journalism. His knowledge of and interest in both the EdTech world and the importance of a STEM education highlight the importance of inquiry-based education, DIY cultures and technology for enhanced learning as crucial 21st century activities. Here are his thoughts on 'the Maker Movement':

With so much of the emphasis in today's education world focusing on the need for education reform, it can be easy to forget just what this means. True, it has long since been time to transform the classroom from a boring place of black and white textbooks to a virtual experience filled with 21st century tools and projects. Education used to be thought of as the 8-2 in a child's day with maybe an hour or so of homework. Now, because of modern educational technology and the emergence of afterschool clubs and supplemental activities, the demand for acquiring a full-circle education is able to be met for students everywhere.
Common Core promises college and career, either/or, but what if you as a parent have been thinking 'college' so long, that you're unprepared when your darling selects 'career'? Ask a Tech Teacher contributor, Sara Stringer, has some ideas for you. I think you'll like this:

Every year, our school holds a Career Day, when people in our small-town community come and talk to our students about their careers. The trouble is, every year the careers represented are the same four or five careers that show up, like in a Richard Scarry book: teacher, banker, supermarket cashier. It's no wonder that our kids grow up wanting to be movie stars and professional athletes, if these are the only other potential careers they see in person.
How can you teach your students about becoming a web developer if they've never met one? How can you teach your students about STEM careers in petroleum engineering — recently ranked on NPR as the college major that leads to the highest income — when there are no petroleum engineers within a 300-mile radius and, to be honest, you're not quite sure what a petroleum engineer does?
Well, you're a teacher. You have to think creatively.
Start by identifying interests, not careers
Here's a free lesson plan from the newest Ask a Tech Teacher book, How to Achieve Common Core with Tech–the Math Strand. This covers K-8, 114 Standards, and has 20 projects.
BTW, the lines at the front of each step are to check off the skill–track progress in case you don't complete it in one class period. Feel free to print out for your classroom use:
Essential Question
How can I use practical and theoretical knowledge to solve a problem?
Summary
Students virtually construct a viable, affordable bridge and submit it (if age limits met) to a national competition. They use theoretical knowledge in a practical application.  When done, they reflect on importance of both theoretical and practical in problem solving.
This lesson contributes to the rigor of your school's math program, defined by Common Core: … Use of technology differentiates for student learning styles by providing an alternative method of achieving conceptual understanding, procedural skill and fluency, and applying to authentic circumstances.
By the end of this unit, middle school students will review all eight Standards for Mathematical Procedures, 3 W and 3 RST standards, as well as embrace an authentic experience in problem solving and the practical applications of math knowledge.
Big Idea