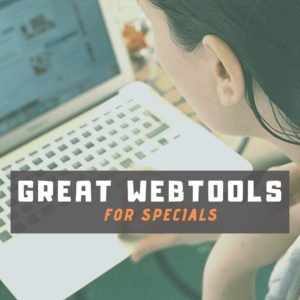 Tech tools often seem focused on core classroom subjects like math, science, and history. Many forget the wealth of webtools available for classes many schools call 'Specials'–those that round out a student's day and prepare them for college and career. Here are three life-skill classes and online tools that make learning more relevant and fun:
1. Physical Education
Coach's Eye is a top app I heard about from lots of PE teachers. It is one of the leading video platforms to record an athlete's performance for playback and review. It records the action and then shows the athlete how to, for example, refine a fastball, analyze a golf swing, break down a volleyball serve, improve soccer skills, or demonstrate proper weightlifting form. Recordings are available instantly, can be zoomed and panned, and can be compared with earlier videos of the student's action. Users can draw lines, arrows, or any freehand marks right on the video, as well as add audio commentary and slo-mo. The results can be shared via SMS, YT, and FB.
LifeSaver is a free online simulation of a life-threatening occurrence where you (as the viewer) become the only one around who can help. You are asked questions and prompted to take the next step. Your answers play out on the simulation so you can see what happens based on your choices.
The video is powerful, professional, and pulls the viewer in as a critical part of the emergency.
2. Art
Lunapic is an intuitive way to add filters, borders, effects, text, drawings, animations, and more to existing images. Personalizing freely-available public domain images is a great way for students to use pictures to communicate exactly what they want to say.
When students use existing art rather than draw their own (though Lunapic does offer a blank canvas if students want to start from scratch), take the opportunity to discuss copyrights and plagiarism as it applies to artistic works.
1.8 million users have created over 15 million designs using the free Canva and it's one million+ design templates (including font schemes, stock photographs, backgrounds, and illustrations (some free, some fee) to create cards, fliers, posters, newsletters, infographics, and more. These are often free with some fee-based pieces. Drag and drop project parts to personalize the design. Edit photos using preset filters or advanced photo editing tools like brightness, contrast, saturation, tint, and blur. Save as a high-quality image or a printable PDF. Canva provides lots of graphic design video tutorials for even the most basic skill level. These are great for Middle School and High School students, as well as teachers.
Canva for education features 17+ lesson plans from the leaders in tech ed. You can even sign in through Google Apps for Education. Canva not only works on iPads but desktops and laptops.
Pivot Animator is a simple free downloaded program (though some find it less than intuitive) that enables students to build animated stick figures and export them as a GIF or an AVI file without any knowledge of Flash animation. Once the animated figure is drawn, students can add backgrounds and other figures to communicate a wide variety of ideas.
Pivot Animator only works on Windows. If you have another platform, try Draw a Stickman (well-suited for elementary school ages)
3. Music
I teach technology, so I asked musician friend Lawrence Auble, what he uses for tutoring. His recommendation: Smart Music. It's one of the 2014 category award winners by School and Band Orchestra magazine and the industry standard for teaching band, string, and vocal of all ages and skill levels. The app gives subscribers unlimited access to SmartMusic's extensive library of over fifty method books, nearly 50,000 skill building exercises, and 22,000+ solo and ensemble titles by major publishers.
It is available on PCs and Macs as well as iPads.
Once students have mastered the basics of keyboarding and are ready to concentrate on speed, it becomes all about rhythm, pacing, and consistency. Metronomes are invaluable for those purposes. There are many digital metronomes but Pro Metronome (free with some fee-based options) stands out. It is an iOS app, and starts immediately upon activation (like iTalk does). Since I don't use it to practice singing or musical instruments, the free version is everything I need. It includes thirteen different metronome tones including a color mode so you can see the beats graphically onscreen, a Pendulum Mode for visual feedback, a voice option for personalization, and is ad-free. Best of all, the beat keeps going, even when you minimize the app, until you close it down.
This is a great tool for every student ready to focus on the touch typing skill level in keyboarding.
According to the GuitarBots website, "The future of guitar learning starts here." The app allows the use of either an electric or acoustic guitar, and it employs the tablet or phone's microphone to hear what the student plays to assess progress.  Awards are given to induce practice and development.  Subscriptions allow the student to dig deeper into the content and features for a greater experience.
***
This barely touches the surface of what's available. For more, visit my website, Ask a Tech Teacher, and my publisher, Structured Learning, to find more resources, ebooks, lesson plans, and articles.
–published first on NEA Today
@canva @pivotanimatorofficial @smartmusic @yousician
---
Jacqui Murray has been teaching K-18 technology for 30 years. She is the editor/author of over a hundred tech ed resources including a K-12 technology curriculum, K-8 keyboard curriculum, K-8 Digital Citizenship curriculum. She is an adjunct professor in tech ed, Master Teacher, webmaster for four blogs, an Amazon Vine Voice, CSTA presentation reviewer, freelance journalist on tech ed topics, contributor to NEA Today, and author of two tech thrillers. You can find her resources at Structured Learning.