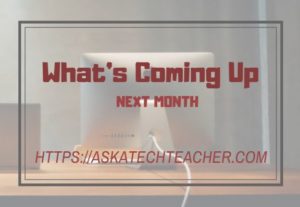 Here's a preview of what's coming up on Ask a Tech Teacher in September:
What to Consider When Assigning Homework
More for Back to School
Tech Ed Resources for your Classroom
Differentiate with Personalized Learning
New Ways to Gamify Learning
Print vs. Digital–the lowdown
Positive Reinforcement in Class
Teaching Critical Thinking
Looking for Trusted Advisors?
All of these are from the Ask a Tech Teacher crew (with occasional guest posts):
We are a group of tech ed teachers who work together to offer you tech tips, advice, pedagogic discussion, lesson plans, and anything else we can think of to help you integrate tech into your classroom. Stop by and say hi!