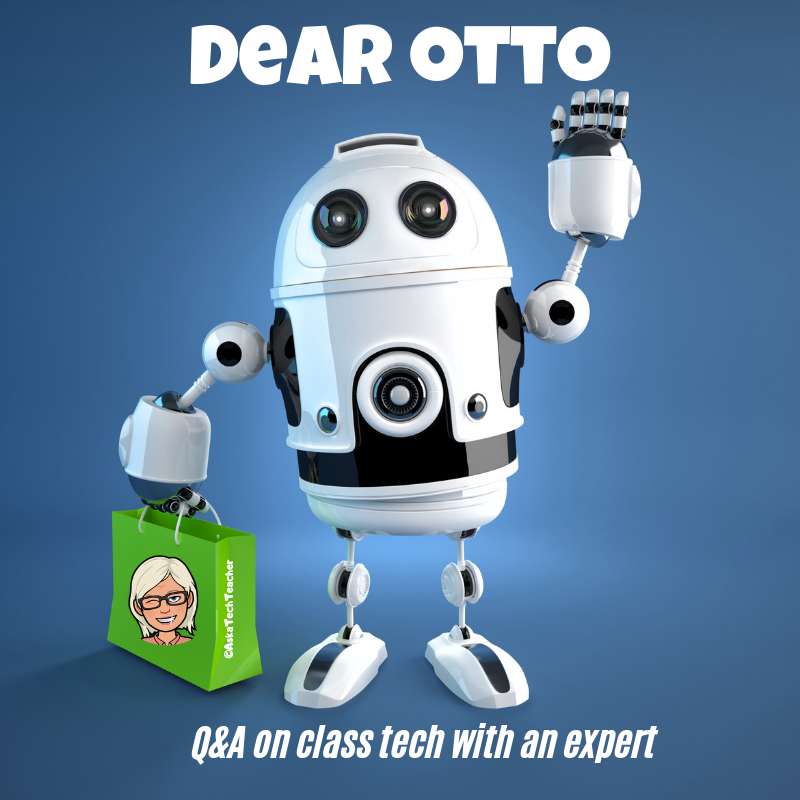 Dear Otto is an occasional column where I answer questions I get from readers about teaching tech. If you have a question, please complete the form below and I'll answer it here. For your privacy, I use only first names.
Here's a great question I got from Lois:
I've been teaching computer technology for 6 years now. The first four years, we worked with Microsoft Office – Word; Powerpoint; Excel. The last two years, we went to an Apple platform and now we use iWorks Suite: Pages; Keynote and Numbers. So far so good – but I feel like I have to "double teach" some things: use this for Word (at home) and this for Pages (at school). Students have not been able to work on projects at home because of the compatibility issue. Not much of an issue for my little ones – we don't send home much homework – but I would love for them to take these skills and run with them while at home. I teach from the menu and do not introduce shortcuts so they are forced to learn the "mechanics" of a program. Now I'm being asked to use Google docs next year. I'm on the fence when it comes to google docs for several reasons: It requires a username and password and email (which we don't introduce until middle school) so my young students will now spend more time just "logging in". I've heard there are ways to have the "email" go to the teacher – but I'm not sure how this works. The other issue is that I feel like Google Docs is "restrictive" when it comes to formatting.
..
Over the years, I have taught file management and how to save documents to file folders with correct titles. Students learn how to take ownership of their work. Google Docs automatically saves work in a cloud. I'm wondering if they will work on google docs at school (and have their work saved automatically – a good thing) and then work on Word or Pages at home and forget to save (a bad thing).
..
While I review the ISTE standards, I have not come across cloud computing and I wonder if I would be negligent if I didn't teach students how to properly save their work, or use a particular type of software that is prevalent in higher education and the workforce. Am I behind the times? I feel like I'm going from one issue to another. Should kindergarteners and first graders have email accounts (and the issues that come with that responsibility) but be capable using the cloud, or should I continue to focus on core software and file management?
I'm dancing as fast as I can…..
..
Thoughts????
Hi Lois
Great questions. Tech changes so rapidly, unlike most other core subjects. It's quite a challenge for us to keep up. I sometimes wonder if Admin considers the repercussions and implementation needs of their latest 'great' idea.