Critical thinking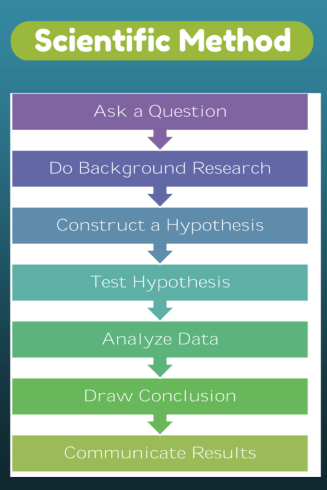 Convincing students–and teachers–of the importance of keyboarding can be daunting. Youngers find it painful (trying to find those 26 alphabet keys) and olders think their hunt-and-peck approach is just fine. Explaining why keyboarding is critical to their long-range goals is often an exercise in futility if they haven't yet experienced it authentically so I've resorted to showing–let them see for themselves why they want to become fast and accurate typists. To do this, I rely on a system they already know (or will be learning): the Scientific Method.
Let me stop here and point out that there are many versions of the scientific method. Use the one popular at your school. The upcoming steps easily adapt to the pedagogy your science teacher recommends.
I start with a general discussion of this well-accepted approach to decision making and problem-solving. If students have discussed it in class, I have them share their thoughts. We will use it to address the question:
Is handwriting or keyboarding faster?
I post each step on the Smartscreen or whiteboard and show students how our experiment will work:
Ask a question: Is handwriting or keyboarding faster?
Do background research: Discuss why students think they handwrite faster/slower than they type. Curious students might even research the topic by Googling, Is keyboarding faster than handwriting?
Construct a hypothesis: Following the research, student states her/his informed conclusion: i.e.: Fifth graders in Mr. X's class handwrite faster than they type.
Test hypothesis: Do an experiment to see if handwriting or typing is faster. Pass out a printed page from a book students are reading in class. Have them 1) handwrite it for three minutes, and then 2) type it for the same length of time. Each time, calculate the speed in words-per-minute.
Analyze data: Compare student personal handwriting speed to their typing speed. Which is faster? Discuss data. Why do some students type faster than they write and others slower? Or the reverse? What problems were faced in handwriting for three-five minutes:

pencil lead broke
eraser was missing
hand got tired
it got boring
Each student compares their results to classmates and to other grade levels. What was different? Or the same?
Draw conclusions: Each student determines what can be decided based on their personal test results. Did they type faster or slower? Did this change from last year's results? Did some classmates type faster than they handwrote? Did most students by a certain grade level type faster than they write?
Communicate results: Share results with other classes and other grade levels. At what grade level do students consistently type faster than they handwrite? In my classes, fourth graders write and type at about the same speed (22-28 wpm) and fifth graders generally type faster than they write. Are students surprised by the answer?