Aristotle famously said,
"The roots of education are bitter, but the fruit is sweet."
As a teacher, I have a different opinion. The process of learning should be as joyous as the end result. Luckily, Lainey Franks agrees with me. She is a former educator with 15 years experience in the classroom. In 2022 she became the CEO of Tools for Schools, the developers of Book Creator – an inclusive, creative edtech tool. I think I would have liked being in her classroom. Here are her five tips for bringing pizazz back to education, using a great tool students in my classes love:

5 tips to bring joy back to school
By Lainey Franks
When I was teaching, the start of the summer was always a time for me to relax and spend quality time with my family. But it was also a time when I would start thinking about the upcoming school year. 
I looked forward to the energy that my most enthusiastic learners would bring, but I also knew that some students would be dreading the return to the classroom because they had struggled in previous years. My goal was to create an inclusive classroom where all my students could find joy, feel valued, and experience success. 
Since joining the Book Creator team three years ago, I've had the privilege of hearing thousands of powerful stories about how Book Creator has unlocked the potential of reluctant learners and ignited a love for learning in every student. 
For example, the Curriculum Access Team at Cincinnati Public Schools has been using Book Creator to ensure that every student has access to their learning. Team Leader Jen Ambrosius shared that Book Creator's multimodal tools give "every kid the opportunity to participate," and Intervention Specialist Kerry Ginn has seen Book Creator "change student lives because they are trusted as having something to contribute." 
Book Creator is a versatile digital tool that allows teachers and students to create interactive digital books. It combines text, images, videos, audio, emojis, and drawings to develop engaging and interactive content. Used by educators from Pre-K through High School, Book Creator offers hundreds of accessibility features to engage even the most reluctant learners. 
As you plan for creating an inclusive classroom this school year, here are some techniques and resources that teachers have shared with me that have worked wonders for them. I hope you find one (or more!) that will work in your classroom! 
1. Get to know your students' abilities and interests 
Take the time to discover your students' interests and build relationships in the first couple of weeks of the year. An open-ended task in Book Creator is a great way to achieve these objectives. Students can self-differentiate in their responses, allowing you to see where they are in their learning journey and use differentiation strategies in the future. 
Try out these Book Creator templates to help: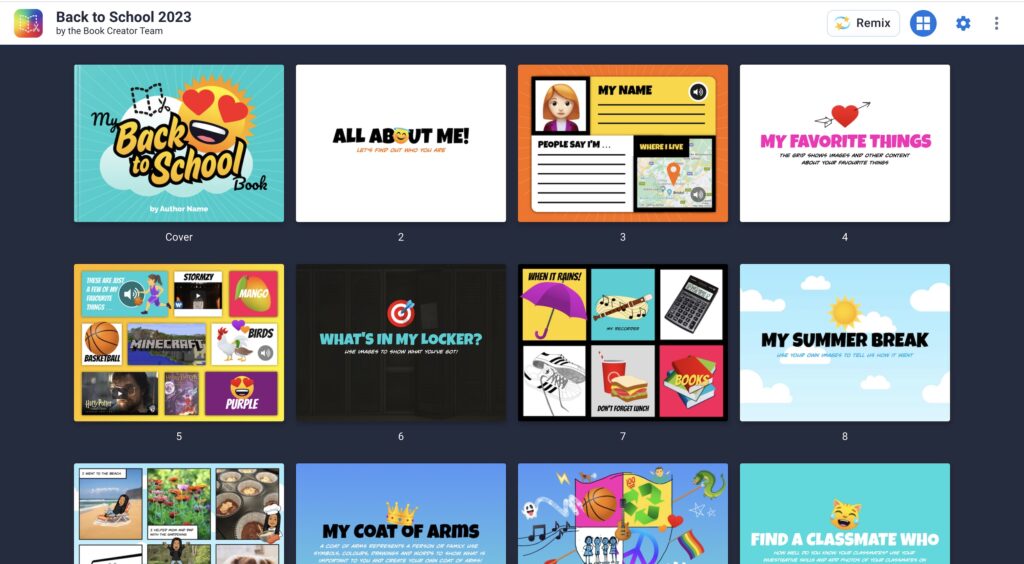 2. Transform your favorite resources into inclusive learning activities
Use Book Creator to transform resources into inclusive learning activities. For example, you can import a PDF and let students approach the learning activity in a new way. Instead of writing answers on a printed worksheet, let them use images, record their voice, or use text-to-speech. You can also customize the questions and instructions to suit your goals. 
3. Assess and track progress with student portfolios and lab notebooks
Use Book Creator as a tool to house student work throughout the year. Students can take photos of their work, embed essays, record themselves reading, include videos or podcasts, and showcase their work done in Book Creator. This allows you, your students, your principal, and parents to have one place to celebrate progress. 
4. Give students feedback they will listen to and act on
Use Book Creator's commenting tool to provide feedback using text, video, audio, emojis, and stickers. Your voice and videos can express empathy and excitement in a way that written remarks can't. You can also provide links to mentor texts or learning resources to help students improve their work. 
5. Engage parents early in the year
Share your students' work easily with parents in Book Creator so they can celebrate success and support their children at home. Creating a book to share with parents and students before the school year starts is a great way to introduce yourself and share important information and resources. 
I hope these techniques and resources help you create an inclusive, joyful classroom where all your students can thrive. Good luck with the new school year!
–image credit Deposit Photo and Book Creator
Copyright ©2023 askatechteacher.com – All rights reserved.

---
Jacqui Murray has been teaching K-18 technology for 30 years. She is the editor/author of over a hundred tech ed resources including a K-12 technology curriculum, K-8 keyboard curriculum, K-8 Digital Citizenship curriculum. She is an adjunct professor in tech ed, Master Teacher, webmaster for four blogs, an Amazon Vine Voice, CSTA presentation reviewer, freelance journalist on tech ed topics, and author of the tech thrillers, To Hunt a Sub and Twenty-four Days. You can find her resources at Structured Learning.