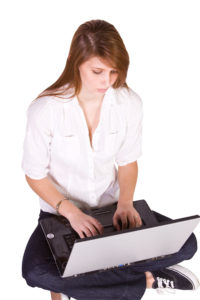 If you're one of the many who must take the IELTS test, one of our Ask a Tech Teacher contributors has come to your rescue. Here are five great websites to prepare you:
The classroom is not the only place you can prepare for your IELTS exam. Thanks to technology, the candidates can access different resource materials online to practice for their examination. There are many platforms online that offer opportunities for you to prepare for the different stages of the exam: Speaking, Writing, Reading, and Listening. Right from the comfort of your home, you can measure your English skills in the different categories of the test and get familiar with the exam process at a reasonable cost. Stress has been taken out of your IELTS exam prep. You only need to have a computer system or a mobile phone along with the Internet connection.
There are some great online platforms that provide effective training for the IELTS exam. Using any of them will make your exam prep seamless and devoid of any stress. These top 5 online platforms are:
IELTS Test Online
The IELTS Test Online is the official website for the IELTS examination. This site is the perfect place to get familiar with the process of the exam and how it works. There are different useful exam details that you can access on this platform. For instance, you can learn more about the general information about the exam format, where to find a test center for IELTS, how to register for the exam, tips on preparing for IELTS test, and sample questions for the examination. To keep abreast of information on the site, you can also join the Facebook Page where you can get tips and quizzes in relation to the IELTS exam. The site is very active and you can learn a lot from its different posts. You can also ask questions and interact with other candidates on the IELTS social platform.
IELTS Simon
The IELTS Simon is a great website that has what you need for your IELTS exam prep. There is also another site like it, DC IELTS which also offers a wealth of resources to equip you in your exam preparation. Both sites are managed by professionals. As a matter of fact, IELTS Simon is managed by a former examiner of IELTS and DC IELTS is run by a current instructor of IELTS. The information offered on these platforms will definitely come in handy for your exam preparation and your actual exam experience. Both websites are updated with daily lessons on IELTS. If you need study materials and detailed information about the IELTS examination for free, these two sites should be your first choice. You can access numerous exam tips, sample exam papers and questions, as well as model answers on the sites. The platforms offer options of subscriptions that allow you get daily IELTS lessons and exam tips in your email.
IELTS Buddy
It is very common for many IELTS exam takers to focus on the techniques, skills, and practice tests without paying attention to the grammar and vocabulary needed to excel in the exam. As a matter of fact, many resource centers do not focus on these areas. However, with PrepAway IELTS, you can be certain that you have all grounds covered. It is crucial to mention that the information aspects of grammar and vocabulary are very important for this exam. You need to be vast in academic word lists and grammatical structures to be able to perform optimally in your IELTS exam. At https://www.prepaway.com/ielts-practice-test.html, you can access some great resources that will help you master these grammatical structures and word lists and practice test questions. The platform provides sample exam papers and questions, downloadable materials, and information on the format of the examination.
IELTS YouTube Channel (Liz)
For many learners, an audio-visual approach to learning is critical to their exam prep process. If you are in this category, you do not have to despair. There are different YouTube channels that have been developed on the IELTS exam. For instance, Liz YouTube Channel on IELTS is a great platform you can learn a lot about your exam prep. The owner of this channel is an instructor and examiner of IELTS thus you can be sure that she has the great tips to offer you in preparation for your examination. The instructor offers free video lessons that cover all the four IELTS tasks. The lessons are informative and well paced. You can also access a general piece of advice and tips on how to pass the IELTS exam on her channel. She also touches the vocabulary.
IH London Blog Site
If you take your time to browse the Internet, you will be amazed at the huge information available to you on the IELTS exam prep. Sometimes, it can become information overload, especially if you have to deal with different websites on a particular area of focus. This is why it is essential to read reviews about websites before you devote your time to the contents on the site. IH London is a popular and well-respected exam center for IELTS. It is also a language school offering useful and concise resource section on the IELTS test on their blog site. When you visit this website, you will find accurate and useful tips on how you can improve your writing scores and prepare for your listening test. You also get to explore different other resources on the platform. The IH London blog is definitely one of the training tools you should check out in your exam prep process.
Conclusion
There are a lot of websites that offer information related to the IELTS exam prep. You can get overwhelmed by the size of information out there. You should, therefore, limit your search to reputable sites. Check out the websites mentioned above and also visit the official site of IELTS to gather more information about the resources you need for your exam prep. Finally, irrespective of the size of information at your disposal, if you do not use it wisely, it will not be of any benefit to you. Therefore, ensure you study and understand the resources for the exam and dedicate enough time to cover all the areas of scope of the examination.
Jacqui Murray has been teaching K-18 technology for 30 years. She is the editor/author of over a hundred tech ed resources including a K-12 technology curriculum, K-8 keyboard curriculum, K-8 Digital Citizenship curriculum. She is an adjunct professor in tech ed, Master Teacher, webmaster for four blogs, an Amazon Vine Voice, CSTA presentation reviewer, freelance journalist on tech ed topics, contributor to NEA Today, and author of the tech thrillers, To Hunt a Sub and Twenty-four Days. You can find her resources at Structured Learning.