Tagged With:
virtual reality
Here's an interesting piece from Ask a Tech Teacher contributor, Jane Sandwood, on the explosion of wearable technology and its place in the education ecosystem: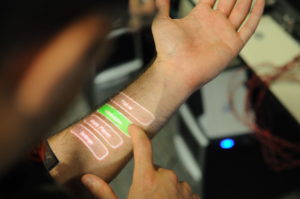 How Wearable Technology is Changing Education and Easing Disabilities
As of 2015, 94% of K-12 students had a computer in their home, with 61% of the same demographic having internet access as well. With the rapid and constant growth of technology combined with the myriad of ways that it's permeated the lives of all of society, especially youth, there's no place where technology is wholly absent. As a result of this, wearable technology has advanced farther than phones in pockets and can include things as advanced as virtual reality headsets that allow students to experience a completely different atmosphere.
Though it can feel easy to become overwhelmed by technology, the reality is that technology of all sorts and types is here to help us, and nowhere is this more true than in the field of education. The vast majority of students are inseparable from the technology that they carry with them daily. Because of this, education must look at ways to coexist and thrive with the technology rather than shun it.
Helping to Hear
Education doesn't stop outside of the classroom. Utilizing modern audio technology allows an incredible amount of versatility to when lectures can be accessed. Oftentimes, lectures will be entirely delivered in audio, causing there to be little to no loss in learning from the loss of the visual aspect.
Audio technology is especially portable and non-intrusive to in-classroom lessons as well. Headphones can be used to hear the lesson more clearly if students are far from the instructor or hard of hearing. There are also countless well-made translator apps that can help students that don't natively speak the language of the lesson to understand what they're being taught.