Tagged With:
curriculum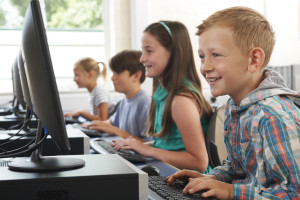 This is a question I get often from teachers: How do I teach my state/national/international curriculum using technology? When I first addressed this issue about fifteen years ago, there weren't any tools to make this happen. In fact, I ended up writing my own project-based technology curriculum (now in its fifth edition). I wanted a curriculum that scaffolded learning year-to-year, blended into the school academic program, could be re-formed to apply to any academic topic, differentiated for varied student learning style, and was age-appropriate for the needs of the digital natives populating my classroom. Everything I found through traditional sources was skills-based, undifferentiated, and relied on programs that have always been around rather than the ones that incited student passion.
The most difficult part was convincing colleagues that 2nd graders couldn't write a book report in MS Word until they understood toolbars, keyboarding basics, enough digital citizenship to research effectively online, and how to solve the never-ending-but-repetitive tech problems they surely would face during their work.
Overall, it took a year to curate teacher needs, evaluate what skills were required to accomplish them, and then blend them into a tech program that optimized learning for the particular age group.
Before I disclose my secret formula, let's assess where you are–right now–in your technology integration efforts. Dr. Ruben Puentedura developed the popular SAMR model as a way for teachers to evaluate how they are incorporating technology into their instructional practice. Here's how it works:
Substitution
Tech acts as a direct tool substitute with no functional change.
This is a great starting point. Look at what you're doing in your lesson plans and consider what tech tools could replace what you currently use. For example, if you make posters to discuss great inventors, could you use an online tech tool like Glogster or Canva?
Augmentation
Tech acts as a direct tool substitute with functional improvement.