Tagged With:
curriculum
I get a lot of questions from readers about what tech ed resources I use in my classroom so I'm going to take a few days to review them with you. Some are edited and/or written by members of the Ask a Tech Teacher crew. Others, by tech teachers who work with the same publisher I do. All of them, I've found well-suited to the task of scaling and differentiating tech skills for age groups, scaffolding learning year-to-year, taking into account the perspectives and norms of all stakeholders, with appropriate metrics to know learning is organic and granular.
Today: K-8 Keyboard Curriculum
Overview
K-8 Keyboard Curriculum (four options plus one)–can include a teacher handbook, student workbooks, and a special package for homeschoolers
2-Volume Ultimate Guide to Keyboarding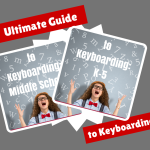 K-5 — 6 grades, 238 pages, 7 unique assessments, 5 templates, over 100 images; sold as print or digital
Middle School — 3 grades 73 pages, 7 unique assessments, 5 templates, 40 images; sold as digital only
Aligned with Student workbooks and student videos (free with licensed set of student workbooks)

Student workbooks and videos sold separately
__________________________________________________________________________
1-Volume Essential Guide to K-8 Keyboarding
120 pages, dozens of images, 6 assessments
Great value!
Delivered print or digital
Doesn't include: Student workbooks or videos