Artificial Intelligence has made its way into our classrooms. Good or bad, only time will tell but some early reports say there are some real positives about using AI-powered program to boost literacy. Here's an article from Hechinger Report, a national nonprofit newsroom that reports only on education, that's pretty interesting:
When Jaclyn Brown Wright took over as principal of Brewbaker Primary School in Montgomery, Alabama, she knew she needed to figure out a way to boost literacy rates. At Brewbaker, which in 2020 served more than 700 students in pre-K through second grade, nearly 20 percent of her students are English learners and 71 percent are economically disadvantaged. In 2019, a year before Brown Wright was hired, less than 20 percent of students were proficient on the school's reading assessments, the principal said. Brown Wright knew the stakes were high: In Alabama, students can be held back if they are not reading at grade level by the end of third grade.
We've discussed artificial intelligence often at Ask a Tech Teacher. Here are a few articles you may find interesting:
Digital Assistants in the Classroom
8 Practical Ways to use AI in Learning


Every year, education finds new ways to make learning more inclusive and diversified. The latest change agent is Artificial Intelligence (AI), now being used in classes to focus learning, simplify redundant tasks, and infuse lesson plans.  Ask a Tech Teacher contributor, Kamy Anderson has eight practical ways to use AI in learning:
Artificial intelligence (AI) is disrupting the education industry. Traditional classrooms may not go extinct anytime soon, but edtech will certainly change the way we learn and think about learning. It's already challenging us, as educators, to revisit our role as sole providers of formal knowledge and professional L&D. And we must admit, AI is making things better and easier.
These are the eight practical ways to use AI in learning:
1.      Smarter Content
The primary ability of AI is to collect and analyze data. Not only is this technology designed to sift through massive amounts of information but it is also ingrained with powerful curation capabilities. As a result, AI helps create smart educational content that's being used in both classrooms and online courses. Using AI, we can deliver textbooks, lesson summaries, and flashcards that are highly focused, relevant, and applicable. Moreover, AI-empowered edtech can keep updating content with the latest findings from leading academic researchers and scientists.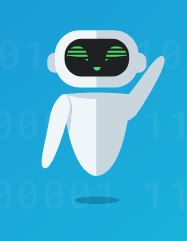 Ask a Tech Teacher contributor, Lisa Griffin, has an interesting AI-inspired tool to share with readers. It brings the best of today's AI functions to classroom writing programs. See what you think:
***
We live in a digital era where the kids are in contact in all sorts of technological solutions that help them learn, connect, and have fun. Furthermore, recent tech advancements are facilitating the inclusion of kids with different sorts of disabilities, allowing them to attend regular classes without any trouble.
Nowadays, Artificial Intelligence is becoming more and more accepted in classrooms all over the world. The benefits of technology usage in schools are vast, including everything from grading tests to analyzing weak spots in courses, providing improvement suggestions. The use of AI in writing and education is also displayed through overwhelming employment of various forms of writing checkers powered by AI. One of these writing assistants is Robot Don, an AI-driven software which we are going to discuss in this article.
What does Robot Don bring to the table?
Writing essays on any given topic includes more than just performing deep research and understanding the issue at hand. It's about practicing the ability to articulate your knowledge in a manner that is easy to understand and follow. In order to accomplish these goals, proper writing skills are a necessity. This includes impeccable spelling, punctuation, wording, and an extensive vocabulary. According to research, most common undergraduate writing errors include faulty sentence structure, misplaced words, poor punctuation, and pretty slim vocabulary.