Tagged With:
AI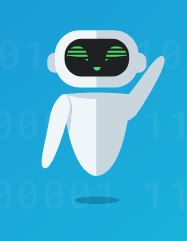 Ask a Tech Teacher contributor, Lisa Griffin, has an interesting AI-inspired tool to share with readers. It brings the best of today's AI functions to classroom writing programs. See what you think:
***
We live in a digital era where the kids are in contact in all sorts of technological solutions that help them learn, connect, and have fun. Furthermore, recent tech advancements are facilitating the inclusion of kids with different sorts of disabilities, allowing them to attend regular classes without any trouble.
Nowadays, Artificial Intelligence is becoming more and more accepted in classrooms all over the world. The benefits of technology usage in schools are vast, including everything from grading tests to analyzing weak spots in courses, providing improvement suggestions. The use of AI in writing and education is also displayed through overwhelming employment of various forms of writing checkers powered by AI. One of these writing assistants is Robot Don, an AI-driven software which we are going to discuss in this article.
What does Robot Don bring to the table?
Writing essays on any given topic includes more than just performing deep research and understanding the issue at hand. It's about practicing the ability to articulate your knowledge in a manner that is easy to understand and follow. In order to accomplish these goals, proper writing skills are a necessity. This includes impeccable spelling, punctuation, wording, and an extensive vocabulary. According to research, most common undergraduate writing errors include faulty sentence structure, misplaced words, poor punctuation, and pretty slim vocabulary.
This week, my wonderful efriends here in the blogosphere are helping me get the word out about my second novel, Twenty-four Days. What makes this exciting for us geeks and techies–and why I think readers of Ask a Tech Teacher will like it–is that the AI (artificial intelligence) Otto introduced in To Hunt a Sub is all grown up, now a mobile speaking android who plays a critical part in solving the mysteries and saving the world:
A former SEAL, a brilliant scientist, a love-besotted nerd, and a quirky AI have twenty-four days to stop a terrorist attack. The problems: They don't know what it is, where it is, or who's involved.
Kirkus Reviews had this to say: had this to say:
A blistering pace is set from the beginning: dates open each new chapter/section, generating a countdown that intensifies the title's time limit. Murray skillfully bounces from scene to scene, handling numerous characters, from hijackers to MI6 special agent Haster. … A steady tempo and indelible menace form a stirring nautical tale…
I'll be visiting blogs to chat about the book and answer questions like:
Can science make a warship invisible? 
Exactly how cool is Otto, the AI? 
What is an 'AI'?
What pick-up line does the story's geek,  Eitan Sun, use to attract his first wife? 
Are there drones in this book? 
Do you have to read the prequel, To Hunt a Sub, to understand this book?
How does Otto find submarines anywhere in the world? 
Is this a romantic thriller? 
Is the tech included in the book really possible? 
When is Book 3 in the Rowe-Delamagente series out?
Here's the schedule of who'll I'll visit. I haven't included the question–you'll just have to drop in to see the answer:
Please join me whenever you can. I'd love to see you.