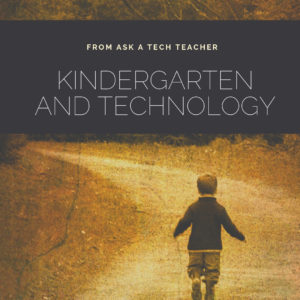 Hi all! I'm off to visit good efriend Norah Colvin over at ReadiLearn to discuss how important technology is even for kindergartners. If you've ever wondered about that, come check out my short article on this subject. And leave comments so we can chat!
Before getting into the article, I want to thank Norah Colvin for inviting me as a guest on her wonderful newly-redesigned education blog, ReadiLearn where Norah covers great topics for the first three years of education., I've been a long-time subscriber, always coming away a little smarter on teaching our youngest learners.
A topic dear to me–and one I get lots of questions about–is teaching Kindergartners to Tech.
When I started teaching technology almost twenty years ago, I taught K-8, three classes in each grade every week. I was buried under lesson plans, grades, and parent meetings. I remember suggesting to my principal that he ease my schedule by eliminating tech for kindergartners. They wouldn't miss anything if I started them in first or second grade.
And back then, that was true. Even a decade ago, technology was an extra class in student schedules where now, it is a life skill. Today, my teacher colleagues tell me kids arrive at school already comfortable in the use of iPads and smartphones, doing movements like swipe, squeeze, and flick better than most adults. Many teachers, even administrators, use that as the reason why technology training isn't needed for them, arguing, "They're digital natives."
More on kindergarten and technology
22 Websites and 4 Posters to Teach Mouse Skills
Tech Ed Resources for your Class–K-8 Tech Curriculum
How to Teach Mouse Skills to Pre-Keyboarders
---
Jacqui Murray has been teaching K-18 technology for 30 years. She is the editor/author of over a hundred tech ed resources including a K-12 technology curriculum, K-8 keyboard curriculum, K-8 Digital Citizenship curriculum. She is an adjunct professor in tech ed, Master Teacher, webmaster for four blogs, an Amazon Vine Voice, CSTA presentation reviewer, freelance journalist on tech ed topics, contributor to NEA Today, and author of the tech thrillers, To Hunt a Sub and Twenty-four Days. You can find her resources at Structured Learning.