Problem solving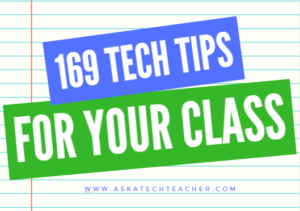 In these 169 tech-centric situations, you get an overview of pedagogy—the tech topics most important to your teaching—as well as practical strategies to address most classroom tech situations, how to scaffold these to learning, and where they provide the subtext to daily tech-infused education.
Today's tip: #59–Alt Keys Add Symbols
Category: Google Apps
Sub-category: MS Office, Webtools, Keyboarding, Problem-solving
Q: How do I create the copyright symbol (or another symbol) in Google Apps or Word?
A: It's easier than you think. Hold down the Alt key and press 0169. ©. Use the keypad with the num lock on–don't use the number row. I could not get this to work until someone pointed out that you must use the keypad. Duh.
Have students try out some others that would be useful for them. For example: