While it's become common for US students to study abroad, it is just as common for non-Americans to spend time studying in the US. If you live outside the US and are interested in study in America, here are some hints for how to make it happen, from one of our Ask a Tech Teacher contributors:
Where to apply
What to study
Type of Student Visa
Working while studying
Wrap up

Things to Know Before Studying Abroad in the U.S.
The United States is one the most popular study destinations for overseas students, boasting academic prowess and cultural richness. Since America is so broad and diverse, it is a perfect place for overseas students. 
You will be incorporated into a welcoming environment and will have the opportunity to experience different cultures while meeting individuals from over the world. Whether you want to work in the United States post-graduation or return to your native country, a US degree will expand your horizons and broaden your prospects.
If you're looking forward to studying in the US but don't know where to start, you can check out some courses at American International to see what interests you. Additionally, here are some things you should know before applying to any college or university in America: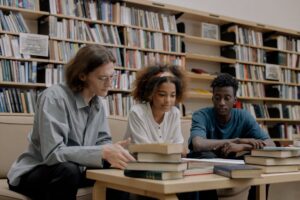 Where to Apply
The United States is home to over 4,000 institutions for higher studies. You will also find that the US dominates world rankings of top 100 universities, with more than half of its institutions on that list. These also include eight prestigious universities, known as the Ivy League, that come under the top 10 universities in the world. The UK comes in second on the list. 
With many colleges having different types and expenses and demanding applications, numerous overseas students may find studying in the United States daunting. Aside from the most prestigious and well-known institutions, the United States offers a diverse range of quality universities with varying values, aims, teaching styles, and fee structures. 
The Wall Street Journal or Times Higher Education College Rankings may help you assess universities based on engagement, contact with professors, and general student experience. This will assist you in choosing the one that is most suited to your budget, interests, and goals. There are also several community colleges, public universities, and government-funded institutes with low tuition fees and great scholarship programs that you can apply to.