I'm thrilled to have Maria Lindqvist from Finnish educational social media platform, Petra's Planet for Schools, as my guest here today. She shares her advice on using social media safely and effectively in schools.
 21st century learning using social media
Advice from Finland
Social media doesn't have a place in the learning environment; it is simply a tool for people to keep their friends up to date with their lives…or is it?
If we look at the process of social media we can start to consider its place in the learning environment. Taking Facebook as an example of a social media site, as use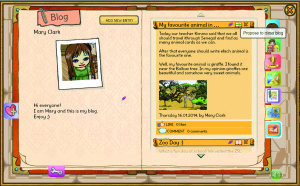 rs we set up a personal page and profile and start to communicate with our friends. We want the information we write to be interesting, amusing and informative; how do we best convey the message we want to get across? We read messages from other friends and if their communication is worthy we chose to 'like' it. Writing effectively can therefore decide how many ''likes' you receive; an important thing for young people. We then have to decide whether we want to illustrate the message with an associated picture image; this can't be too large a file size so we may need to use a graphics editor to resize the image.
One of our Facebook friends could be someone from Turkey who we met on holiday last year. She writes about her family's religion and the celebrations she attends. Her prayer in the mosques is called namaz, but generally she prays at home. Over the summer she is going to work at a farm in her village, picking fruit which is the most common type of work in her remote area of Turkey.  Suddenly I have a new interest in this country and want to understand its cultures and economy. When we start to study world religion in school, I contact my friend to gather information. It is so much more real coming from her than from a book.
It is clear to see the potential educational benefits of social media in the classroom.