Category:
Subscriber special

Subscriber Special
Until January 18th:
Free Martin Luther King Day Lesson Plans
Two lesson plans to prepare for Martin Luther King Day in January: 1) Students research events leading up to Dr. Martin Luther King's impact on American history and share them with an Event Chain organized visually, including pictures and thought bubbles. 2) Students interpret the words of Dr. Martin Luther King in their own words in a visual organizer. Great project that gets students thinking about the impact of words on history.
Designed for grades 4-7, it's aligned with Common Core and ISTE Standards.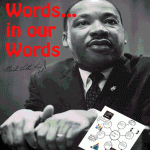 What's included in each lesson plan:
brief summary of the project
Essential Question
Big Idea
Common Core and ISTE alignment
materials required
teacher prep required

step-by-step instructions
extensions to dig deeper into the subject
assessment strategies
sample grading rubric
sample project

resources