The difficulties with engaging children in math learning grows each year. I have several articles coming up next week that discuss that issue (links won't work until publication date):
What is 'Technical Math'–December 10, 2021 (this article)
Returning to Rigorous Mathematics–December 16, 2021
Math Scores Drop Again–December 17, 2021
An excellent solution is to change the focus, teach kids what will be required. One of our Ask a Tech Teacher partners has a good article on that topic:
What Is Technical Math?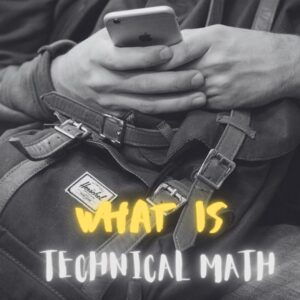 There's an old joke about how kids are forced to learn algebra and trigonometry in school, but have no use for those subjects in real life. But in reality, that depends heavily on what kind of profession you choose to go into. A lot of professions you might think wouldn't call for much math actually require it as a core skill set for certain trades, including plumbers, electricians, welders, and construction workers.
Why do trades like this require so much mathematics? These are supposed to be the jobs you don't need extensive education for, right? Well, as it turns out, they're not.
In fact, many technical trades require more math than some white-collar professions. Let's look at welding, for example. To excel in their profession, a welder needs to understand and calculate concepts like material usage, which requires using fractions and sometimes algebra. They'll also need to know how to use charts and graphs for some processes.
The same is true of construction workers, who must deal with equations, conversion of quantities, and taking measurements. In a typical workday, a construction worker may have to use equations to convert between units of measure, or use ratios to figure out the proportion of a roof's length to its height. Getting some calculations wrong in construction work can have dangerous, if not deadly, consequences. In more advanced construction work (i.e. the jobs that pay well), they'll even have to know some geometry.
The skills required for these sorts of jobs comes from a particular field, called "trade math" or "technical math."