Presidents' Day is an American federal holiday celebrated on the third Monday in February–this year, February 20, 2023. It was originally established to honor George Washington, the first President of the United States, and expanded to also celebrate the birthdays and legacies of other U.S. Presidents, particularly Abraham Lincoln, whose birthday is on February 12th.
Here are great ways to celebrate in your classroom including websites, games, activities, printables, quizzes, audios, songs, interactive maps,  crafts, flashcards, videos, webquests, books, posters, trading cards, lesson plans, word searches, puzzles, speeches, articles, animations, biographies, and more (click the titles for the link):
1. Activities
Check out Apples 4 the Teacher, a well-known resource site for teachers and homeschoolers, this site provides links to President-themed coloring pages, stories, biographies, word searches, word jumbles, puzzles, and book reviews that can be used to reinforce learning about all of America's presidents.
Or, try Family Education, for quizzes, crafts, flashcards, as well as patriotic activities.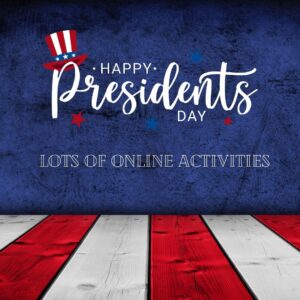 With the quality and ease-of-understanding teachers expect from all BrainPop resources, this link provides classroom resources on fifteen presidents including Washington, Lincoln, Roosevelt, Madison, Adams, Jackson, Nixon, Clinton, Kennedy, Reagan, and Obama. It also includes videos on the Presidential Election and Presidential Power.
3. Enchanted Learning Activities
From Enchanted Learning, one of the older but respected names in classroom printables, find crafts, printables, short printable books, a general collection of activities, spelling and writing activities, math worksheets, US symbols activities, quizzes, and more.
4. Games and online activities
From Primary Games, popular home of a wide variety of edutainment for kids, this link includes a President's Day Wordsearch, games, coloring pages, worksheets, jokes, stationary, and mobile games.
This site is part of Google's Arts and Culture, reputed to be well-done, visual, and immensely enticing to viewers. It is a curation of websites and web-based resources on each president, as well as general information on life in the White House. Each President's archive is anchored by his official Presidential portrait.
From History.com, this is one of the most comprehensive, engaging collections of Presidents Day activities you'll find online. It includes videos, animations, Presidential speeches, and articles as well as background on the White House and the holiday itself.
Curated by WhiteHouse.gov, this site includes links to each President. From there, you get a fairly short though comprehensive biography of each president, interesting facts, and the part he played in creating the nation.
From Education World, this lesson plan guides students and teachers in creating a timeline of events in the life of the president. It includes materials required, time allotted, objectives, lesson plan, assessments, and tie-ins to academic subjects.
–image credit Deposit Photos
***
Copyright ©2023 askatechteacher.com – All rights reserved.
---
Jacqui Murray has been teaching K-18 technology for 30 years. She is the editor/author of over a hundred tech ed resources including a K-12 technology curriculum, K-8 keyboard curriculum, K-8 Digital Citizenship curriculum. She is an adjunct professor in tech ed, Master Teacher, webmaster for four blogs, an Amazon Vine Voice, CSTA presentation reviewer, freelance journalist on tech ed topics, and author of the tech thrillers, To Hunt a Sub and Twenty-four Days. You can find her resources at Structured Learning.