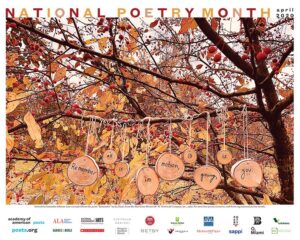 April is National Poetry Month. For thirty days, we celebrate the value and joy that poetry brings to our world.  According to the Academy of American Poets, the goals are:
Highlight the extraordinary legacy and ongoing achievement of American poets
Introduce more Americans to the pleasures of reading poetry
Bring poets and poetry to the public in immediate and innovative ways
Make poetry a more important part of the school curriculum
Increase the attention paid to poetry by national and local media
Encourage increased publication, distribution, and sales of poetry books
Increase public and private philanthropic support for poets and poetry
All across the nation, school, teachers, students, libraries, and families celebrate by reading, writing, and sharing poetry. Here are websites that do all that and more. Share them with students on a class page, Symbaloo, or another method you've chosen to share groups of websites with students.
When I was in high school, I was forced to learn poetry. I didn't want to, saw no benefit to it, and unfortunately, the teacher didn't change my mind. All that analyzing meaning and deconstructing stanzas went right over my head. Worse, selections such as Beowulf and anything by Elizabeth Barrett Browning seemed unrelated to my life and goals. Poems I loved like "The Charge of the Light Brigade", "The Raven", and "The Road Not Taken" were rare. It wasn't until University, where I discovered that poetry speaks the language of dreams, that I fell in love with it.
Thankfully, today's teachers communicate poetry's essence much better than what I experienced.
What is poetry?
When many people think of poetry, they visualize flowing groupings of soulful words as pithy and dense as a fruitcake and for some, just as (un)appealing. I'll get back to that in a minute, but first, here's a definition (from Wikipedia):
an art form in which human language is used for its aesthetic qualities in addition to, or instead of, its notional and semantic content.
You are most likely to recognize a poem by its truncated lines that rarely end in a period (though this isn't always true), the rhythm created when reading it, the liberal use of literary devices such as alliteration and similes, and its ability to tell an entire story in a very (very) few stanzas. A good poem not only communicates with words but with emotion, senses, and memories, it gives a reader permission to interpret the content in ways that speak to his/her dreams. It may ask a question or answer one but always, it encourages the reader to think.