High School
This is not a topic I've thought much about. I have a nice collection of driver's ed websites and videos for high school students so really should have considered this essential skill. Thanks to Jane Sandwood, Ask a Tech Teacher contributor, for coming up with this article.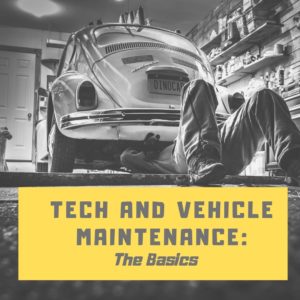 U.S. adults consistently perform worse in digital problem solving compared to their counterparts in other nations, according to a report from the National Center for Education Statistics. This nature of affairs is possibly, in part, due to the limited emphasis on teaching problem-solving skills in school. Our lives are inextricably intertwined with cars, and at some point, our kids have to be introduced to concepts of operating and maintaining them. Not all children will grow up to become mechanics, but most of them will likely need to drive a car. Teaching them basic concepts about car maintenance will not only help satisfy their curiosity, but can also help them in the future when they are encountering problems with their cars. Tech tools have simplified the process of diagnosing car problems to the extent that children can be taught this essential aspect of car maintenance.
Start With The Basics
Because car maintenance is not on the curricula for most schools, a car diagnostics project can best be handled as homework, after-school program, or as part of evening/weekend classes. The goal is to help them to improve their problem-solving skills. Before using technology tools to diagnose car problems, it is only fair to teach the child how the different parts of the car work. A demonstration of the location of the engine, battery, breaks, gearbox, and other essential car parts may be a good way to get things started. Then you can explain how the different car parts work together and throw in a lesson on basic car maintenance. This can include demonstrations on how to change car tires and how to replace car fluids like engine oil, radiator coolant, windscreen solutions, and brake fluid.
General Car Diagnostics
The child can now be introduced to the principles of identifying the cause of car problems. To help the child to remember the concepts, it might be useful to state generalized formulas for possible causes for common car problems. For example, you may explain that a car failing to start may indicate a problem with the battery, spark plugs, or the car fuel system. A burning rubber smell may signal a problem with the brakes, oil leak, or an electrical fault. Then, depending on the child's age and cognitive abilities, you may delve deeper into the peculiar characteristics of each problem.