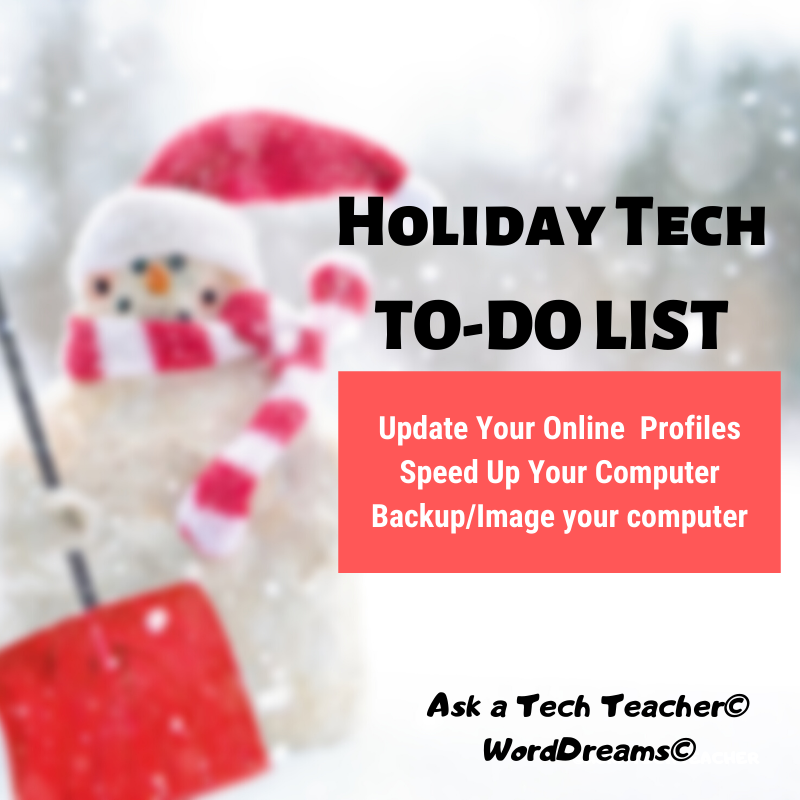 This week, I'm providing tips for end-of-year technology maintenance. Sure, you should do it once a month if you're active on your computer, but AT LEAST do it yearly.
Like today.
For most teachers I know, life zooms by with few breaks to pause, glance around at the surroundings and clean up the clutter and confusion that grows like mold from our everyday academic life. The end of the calendar year is a good time to do that, when many of us are teaching less and have fewer commitments and obligations to fill our week.
Here's my short list–one I hope is do-able during the Holidays. While it's specific to blogs, it can apply to class wikis, websites, Moodle accounts–anything that you routinely update and share with colleagues, students, parents:
Update my online profile–FB, Twitter, professional groups, my PLN. Have I changed my focus? Switched jobs? Adding new pieces efriends would like to know about? This, btw, should be done regularly, but at least do it at the new year.
Check old posts, articles, updates for grammar and spelling. I start with the most-visited articles (under Site Stats) and work my way down (in case I run out of time). I'm always surprised what I catch with a fresh eye.
Check individual post tags and categories to see if I can whittle down the options while still clearly cataloging my writing. Sometimes, I haven't even added a category–fix all those, too.
Check sidebar for out-of-date and no-longer-relevant widgets and links. Add new pieces (like awards and links) that add to the blog's utility. Move pieces around to give a fresh look.
Check list of 'pages'. Sure, I'm on top of the Home page, but are the others still relevant? Up to date? Hmm…
Check appearance on a smart phone and iPad to see if they require adjustments to display better. I recently switched my blog theme (you probably noticed) to respond to the fact that so many people read blogs on iPads and smartphones now, rather than desktops and laptops.
Check blog in different browsers to see if I should recommend one over the other for best-viewing.