Tagged With:
seniors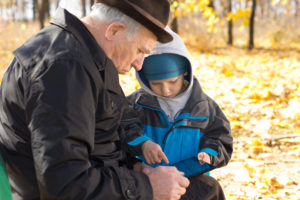 A topic I don't cover enough in Ask a Tech Teacher is how seniors handle the onslaught of technology in their lives. Thankfully, Beata GREEN, Director of HeadChannel Ltd., London-based bespoke software development company, has experience in this area and was willing to share her ideas. Beata is responsible for overall strategic direction and overseeing the company's continuing growth, building closer client relationships and maintaining best working practices. When she's not pondering the blending of tech into the lives of parents and grandparents, she enjoys brisk country walks with her red fox labrador and then relaxing in front of a TV crime drama with a glass of red wine.
***
Older people have always been reticent to adopt new inventions, especially when it comes to new technology. As new tech is mostly created by young developers, it is usually tailored to the younger generation. However, the impact of technology on the health and personal life of seniors can be huge, even if they claim they do perfectly well without it.
One of the major problems of technology adoption among elderly people is their non-understanding as to why they need it at all. Keeping up with the youth is not going to be a good incentive here. What is the greatest value, then, that technology can bring into the lives of the older generation? We've analyzed many different aspects of the biggest pains for seniors to show how tech can be decisive in increasing their life quality. And how after seeing a clear benefit, even our grannies are not afraid to try something new.