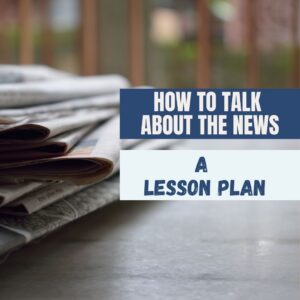 Teaching students about current events used to be as easy as picking a trusted newspaper and reading their headlines. Those days are gone with fake news, yellow journalism, and opinions dressed up as news stories. So how to you talk about what's in the news? Marcee Harris over at Teaching Channel has a lesson plan to help you:
How to Talk About What's in the News: A Lesson Plan
By Marcee Harris on March 31, 2021
When our students enter our classrooms, they come with bits and pieces of news from home, their social media feeds, and from conversations with friends. This news can create a sense of fear and worry for some, as well as generate lots of unanswered questions. Tackling these tough topics in the classroom can be a challenge, especially for educators who come from different backgrounds than their students. Despite the uncertainty of what to say, it's imperative that we honor our kids' news and engage in dialogue that explores their questions. This process will open students up to a range of perspectives and nurture critical thinking skills.
More from Ask a Tech Teacher on news, sources, teaching with it:
---
Jacqui Murray has been teaching K-18 technology for 30 years. She is the editor/author of over a hundred tech ed resources including a K-12 technology curriculum, K-8 keyboard curriculum, K-8 Digital Citizenship curriculum. She is an adjunct professor in tech ed, Master Teacher, webmaster for four blogs, an Amazon Vine Voice, CSTA presentation reviewer, freelance journalist on tech ed topics, and author of the tech thrillers, To Hunt a Sub and Twenty-four Days. You can find her resources at Structured Learning.